PSA: Every Member of Congress From Florida Who Voted Against Hurricane Sandy Aid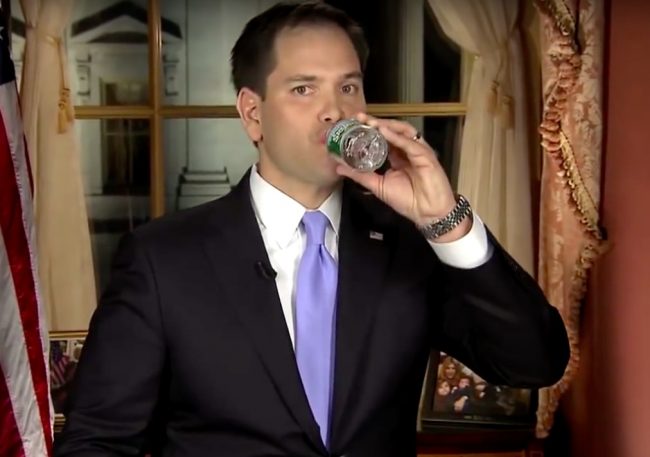 As damages from Hurricane Harvey appear well on track to top $100 billion, the largely Republican congressional delegation from Texas returned to Washington this week with hands extended.
As disaster bore down, the leaders of the delegation, Senators John Cornyn and Ted Cruz sent a letter to President Trump requesting that he provide "emergency protective measures."
"Given the potential catastrophic impact that the Hurricane may have on Texas communities, we strongly support this request and urge you to provide any and all emergency protective measures available by a major disaster declaration," they wrote.
Tran$lation —— $$$$$$$.
Now in normal times, this would be an entirely appropriate and uncontroversial part of the normal functioning of government… Sadly, however, we do not live in normal times.
Since making their request, both Senators came in for withering criticism for their votes against very similar aid for victims of Hurricane Sandy, which battered New York and New Jersey in 2012. And it wasn't just Cruz and Cornyn. Believe it or not, more than 20 members of the Texas congressional delegation were content to deny federal aid to Sandy victims.
So anyway — now that we face another bit of disaster Déjà vu in the form of Hurricane Irma, I thought I'd get out ahead of another storm of hypocrisy — this time from the Florida delegation. The Category 5 monster is on path to deliver historic damages to the Sunshine State in the coming days.
Below is a complete list of the members of Congress from Florida who voted against aid for Hurricane Sandy. I decided to investigate in the event this information becomes more newsworthy in the coming days.
Put another way — The North Remembers.
Members still serving marked in bold:
1. Sen. Marco Rubio
2. Rep. Jeff Miller
3. Rep. Steve Southerland
4. Rep. Ted Yoho
5. Rep. Ron DeSantis
6. Rep. John Mica
7. Rep. Bill Posey
8. Rep. Daniel Webster
9. Rep. Richard Nugent
10. Rep. Gus Bilirakis
11. Rep. Dennis Ross
12. Rep. Vern Buchanan
13. Rep. Thomas Rooney
14. Rep. Trey Radel
Click to see how your Senators and Representatives voted
Follow Jon Levine on Twitter / Facebook.
Have a tip we should know? [email protected]