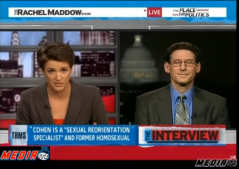 First of all, would someone please give Rachel Maddow a Sunday morning show. She is consistently producing hard-hitting interviews, and with George Stephanolpoulos likely leaving This Week, to likely be replaced by Terry Moran, it is increasingly obvious just how badly the Sunday AM hours need some shaking up.
Shaking up, meanwhile, is exactly was 'gay-to-straight' therapist Richard Cohen got last night from Maddow. Some background: Cohen is one of this country's leading practitioners of 'conversion therapy' which is based on the (utterly disgusting) idea that people can (and should) choose to be straight. His name has been popping up with more frequency of late because Uganda is proposing a law that could impose life imprisonment and/or the death penalty for homosexuals ('Kill the Gays bill'), and they are using a lot of the what is professed in Cohen's book Coming Out Straight to justify the legislation.
On what turned into a rather explosive show, Cohen emphatically denied he was responsible for encouraging anything but a "loving," "supportive" environment for those sad Gays who want to come out straight. But boy was Rachel Maddow not interested in that line of thought. Maddow went to town on Cohen, confronting him with numerous passages from his first book Coming Out Straight specifically a passage that references a man named Paul Cameron, who has since been thrown out of basically every medical association in the country and which says:
Homosexuals are at least 12 times more likely to molest children than heterosexuals; homosexual teachers are at least 7 times more likely to molest a pupil; homosexual teachers are estimated to have committed at least 25 percent of pupil molestation; 40 percent of molestation assaults were made by those who engage in homosexuality.
Cohen says he will remove the passage in the next printing. Maddow does not care: "This is made up, fake authoritative stuff that in other countries is being taken as science and used to justify, quite literally, killing gay people….I think you have blood on your hands."
And that's just the beginning, folks. Maddow spends most of the 17 minute segment relentlessly confronting Cohen with his own words, including an excerpt from his latest book which states that one of the factors that could contribute to homosexuality is race (along with divorce, adoption, and a bad relationship with your father). Something Cohen apparently (conveniently) forgot he wrote. Oops.
Maddow also points out Cohen is not licensed. Anywhere. You should just watch the whole thing, and then sub in any number of politicians into Cohen's seat an imagine how much better Sunday morning TV could be.

Visit msnbc.com for breaking news, world news, and news about the economy
Have a tip we should know? tips@mediaite.com