Reagan-Appointed Federal Judge: It's 'Really Absurd' That Marijuana Is Illegal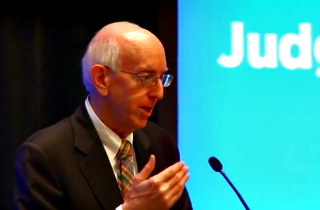 Federal Judge Richard Posner, one of the most-recognized legal appointees of President Ronald Reagan said during a recent lecture that he believes it is absurd for marijuana to be illegal. He also expressed skepticism that harsh laws are necessary for other drugs, and doubted the effectiveness of the criminal justice system in solving narcotics abuse issues.
"Personally, I don't think we should have a fraction of the drug laws that we have," Posner told the audience at Elmhurst College in Illinois. "I think it really absurd to be criminalizing possession or use or distribution of marijuana," he said and was met with applause. "I can't see any difference between that and cigarettes."
Posner, who currently serves on the United States Court of Appeals for the Seventh Circuit in Chicago, went on to question the need for harsh penalties for other drugs besides marijuana: "I'm skeptical about the other drug laws," he said. "I don't know how much we know, for example, about whether cocaine is really a disabling drug or whether it's something people can take and lead more or less normal lives."
"Clearly there are dangerous drugs," he continued, citing LSD, but he then explained that the fears about harder drugs may actually be overblown. "There are problems," he conceded, but added that "the notion of using criminal law as the primary means of dealing with a problem of addiction, of misuse, of ingesting dangerous drugs… I don't think that's sensible at all."
"And that is responsible for a high percentage of our prisoners and these punishments are often very, very severe," he concluded.
Take note, President Obama, Mitt Romney, a majority of Democrats, and pretty much the entire Republican Party: when a noted conservative judge like Posner calls your failed war on drugs "absurd," perhaps it's time to stop laughing off the conversation whenever it comes up.
Watch the clip below:
[h/t Conor Friedersdorf]
Have a tip we should know? tips@mediaite.com