If Apple ends up changing its dictionary definition of the word "gay," it will be thanks to a 15-year-old high school sophomore from Sudbury, Massachusetts who was shocked by what she found when she looked it up. Here's what Becca Gorman found when she used her MacBook dictionary application to search the word for a history essay on gay rights:

While it may seem that the third definition, which uses "foolish, stupid and unimpressive" as synonyms for gay is more likely to heard from playground bullies than English dictionaries, it appears to derive from the Oxford Online Dictionaries. The definition found on that website matches Apple's word-for-word: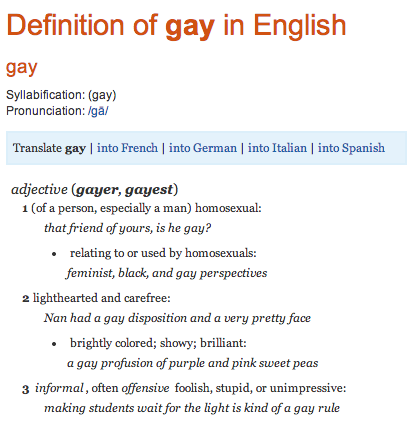 However, if you look the word up on Merriam-Webster, you see words like "merry" and "homosexual" but nothing derogatory:
Gorman, whose two mothers are lesbians, said her initial reaction to the definition on her Apple computer was "disbelief." Assuming Apple to be a gay-friendly company, she decided to write an email to CEO Tim Cook. "I assume that you are a pro-gay company, and would never intend for any one of your products to be as offensive as this definition was," Gorman reportedly wrote. "Even with your addition of the word 'informal,' this definition normalizes the terrible derogatory twist that many people put on the word 'gay.'"
To her surprise, she received a call back from an Apple representative about an hour after she pressed send. "They told me it's so hard to track the dictionaries they're getting sources from, and that they were also shocked themselves," Gorman told WCVB-TV. While Cook has not publicly said he is gay, he topped Out magazine's Power 50 list for the third straight year in 2013.
Because the dictionary application exists as software on Mac users' computers and mobile devices, even if Apple decides to make a change, anyone who does not update their software would continue to see the "offensive" definition.
Watch video below, via WCVB-TV:
[h/t Raw Story]
[photo via screengrab]
— —
>> Follow Matt Wilstein (@TheMattWilstein) on Twitter
Have a tip we should know? tips@mediaite.com