Religious Conservatives Push Against GOP Convention in Sin City, for Obvious Reasons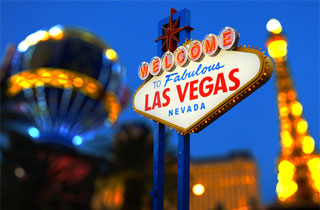 Every four years, the GOP holds a large convention in a major city to dramatically celebrate the choosing of their presidential candidate, and every four years, the media goes hunting for conservatives attendees engaged in naughty, hypocritical activities: Strip clubs! Gambling! Drinking! Prostitutes! Drugs! Drugs that are on prostitutes! So the prospect of the GOP choosing Las Vegas for the 2016 convention — a place that has all those things in abundance — is atheist Christmas for the LameStream Media.
Hence, some of the religious right's well-known activists — James Dobson and Phyllis Schafly among them — sent a letter to RNC chairman Reince Priebus, begging him to take Las Vegas off the list. By holding the convention in Vegas, they warn that the GOP will be walking into a "trap waiting to ensnare" those unfortunate conservatives caught sinning via an iPhone camera.
"Even though Vegas has tried to shore itself up and call itself family-friendly, it's still a metaphor for decadence," Dobson said according to the Dallas News. "There's still 64 pages of escort services in the yellow pages. … You can't have it both ways."
"This is the city of deep, dark secrets. … Are they going to cross the Rubicon?" added Paul Caprio, the director of Family-PAC. "Parties have images to American voters as to who's pro-family and who isn't."
While it may be a den of vice (and a geographic magnet for Republican PR disasters), Vegas is one of a few cities left on the GOP's shortlist, and, most importantly, could easily front the $50 million needed to host a convention of its size, as well as house delegates and events in its endless conference spaces and hotels. (Dallas is also a great contender and also on the shortlist, the Dallas Morning News helpfully notes.)
Republican observers aren't just worried about attendees behaving badly, though — they're also worried about looking like they're too close to casino billionaire, pro-Israel advocate, and the GOP's human trust fund, Sheldon Adelson:
Influential conservative blogger Erick Erickson, editor of RedState, published an open plea Monday….for him, an even bigger concern is that the party would be cozying up to Sheldon Adelson. The billionaire casino mogul donated nearly $100 million to GOP candidates and causes in 2012 and would be a major funder of the host committee. His policy aims are protecting Israel and banning online gambling.

Erickson called it "embarrassing" to open the party to allegations that it picked a convention site "to placate a donor."
The Dallas Morning News would like to remind its conservative readers that Dallas is still on the table.
[The Dallas Morning News via Mother Jones]
[Image via Shutterstock]
— —
>> Follow Tina Nguyen (@Tina_Nguyen) on Twitter
Have a tip we should know? tips@mediaite.com