Remember How Badly You Wanted to See a Portrait of Donald Trump Made of 500 Dick Pics?

Sometimes on the campaign trail, voters will go to extreme lengths to show their artistic renditions of a particular candidate. Take for example, 70-year-old Maria Anita Monsivaiz from San Antonio, TX who scored a shot at viral fame by shaving Hillary Clinton's face into the back of her head.
Or, who could forget the mothers out there who dressed up their children like itty bitty Bernie Sanders lookalikes, creating the viral hit #BabiesForBernie?  
Well, the newest addition to the Hall of Candidate Appreciation comes from a Tumblr user known as Homo Power, who has created this rather, uh, well-endowed mosaic of Donald J. Trump out of dick pics: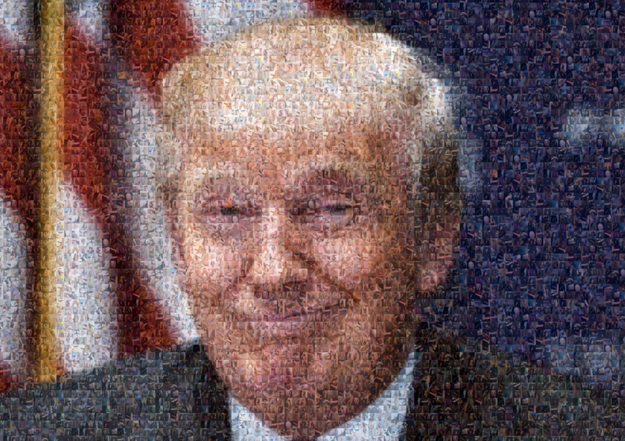 The entire composite image is actually comprised of 500 images of male genitalia, and the curator of the Tumblr did not hold back his honest thoughts of the GOP frontrunner:
Someone once made a photo mosaic pic of conservative republican politician Rick Santorum using porn images. I thought I'd go one better, in lieu of SNL letting him host last night. I give you a pic showing what Donald Trump is really made of. This is a high-resolution photo mosaic of Trump made with 500 dick pics.
No word yet on Trump's response about the mosaic being the most amazing, most incredible dick pic mosaic in the entire GOP field.
[h/t Buzzfeed]
>> Follow J.D. Durkin on Twitter (@MediaiteJD)
Have a tip we should know? [email protected]