Remember How ESPN's Rick Reilly Quoted His Indian Father-in-Law to Support the Redskins? Well…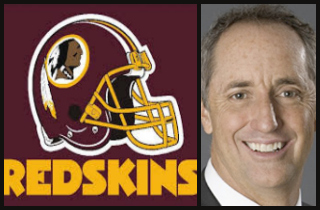 Last month, ESPN columnist Rick Reilly defended the Washington Redskins' controversial name by quoting his Native American father-in-law as being baffled by the outrage over such a nickname. As it turns out, father-in-law Bob Burns was misquoted. And he's none too happy about it.

As we reported on Reilly's original column, Burns was quoted as saying "The whole issue is so silly to me … The name just doesn't bother me much." But in a response for Indian Country Today Media Network, Burns admonishes his son-in-law for misquoting him:
So you can imagine my dismay when I saw my name and words used to defend the racist Washington Redskins name. My son-in-law, ESPN's Rick Reilly, completely misunderstood the conversation we had, quoting me as saying "the whole issue is so silly. The name just doesn't bother me much. It's an issue that shouldn't be an issue, not with all the problems we've got in this country."

But that's not what I said.

What I actually said is that "it's silly in this day and age that this should even be a battle — if the name offends someone, change it." He failed to include my comments that the term "redskins" demeans Indians, and historically is insulting and offensive, and that I firmly believe the Washington Redskins should change their name.
Burns expressed lamentations over being portrayed as an "Uncle Tom" in favor of the "redskins" slur. "I asked him to correct the record," he claimed. "He has not, so I must do it myself."
The Blackfoot elder closed his letter: "Let me be clear: The racial slur 'redskins' is not okay with me. It's never going to be okay with me. It's inappropriate, damaging and racist. In the memory of our Blackfeet relatives, it's time to change the name."
So, yeah. Christmas dinner at the Reilly family's: taking "awkward" to newer heights.
[h/t Deadspin]
— —
>> Follow Andrew Kirell (@AndrewKirell) on Twitter
Have a tip we should know? tips@mediaite.com