Remembering the Time Chris Matthews Was Caught on Hot Mic Ogling Melania Trump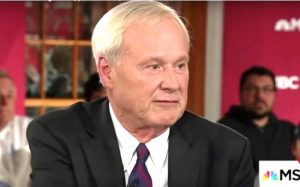 Without a doubt, Republican nominee Donald Trump is facing the hot coals of criticism for his 2005 comments regarding physically imposing himself onto women. The fall out from the leaked Access Hollywood video was swift; dozens of GOP elected officials either denounced the commentary or outright withdrew their endorsements of the party standard-bearer, indicating that the rampant sexism and sexualized comments had no place in presidential politics.
However, this isn't even the first time during this election cycle alone that the use of sexual language has been caught on a hot mic.
On the night of the Indiana primary — when Texas Senator Ted Cruz would formally announce that he was suspending his campaign, effectively handing the nomination to Donald Trump — the real estate mogul trotted his family out for a victory lap and a warm self-congratulatory speech. During the broadcast, MSNBC's Chris Matthews was heard ogling Melania Trump's "runway walk."
@hardball_chris Matthews creeping on @MELANIATRUMP saying he could watch her walk all day. #dirtyoldman #openmic pic.twitter.com/wQ29lWuVbV

— david lawson (@lumpy68) May 4, 2016
"Did you see her walk? Runway walk. My God is that good," Matthews can be heard saying.
The Hardball host continued his sordid language, adding, "I could watch that runway show."
A spokesperson for Melania Trump said at the time:
Reached by email, a spokesperson for Melania Trump described her as "an accomplished businesswoman and entrepreneur in her own right," and said it was "unfortunate to see the continuous inaccuracies and misrepresentations made by the media of Mrs. Trump as anything less than the independently successful woman that she is."
—
[image via screengrab]
This is an opinion piece. The views expressed in this article are those of just the author.