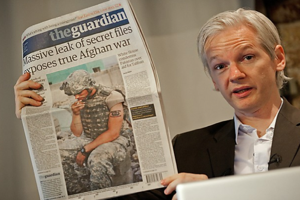 The highly anticipated new release of confidential documents Wikileaks has been touting all week on its Twitter account may have one foot out the door. Earlier today, German newspaper Der Spiegel— one of five major international newspapers Wikileaks granted access to the files– posted answers to general questions about the diplomatic wires set to leak, in which they suggest tomorrow is the big day. That post has since been removed from their website.
Gawker found a cache on the website WL Central that reprints some of the facts in the Spiegel post, among which is the proposition that the newspaper will release all the files and their research on "22:30 Sunday" local time– tomorrow afternoon. Other interesting tidbits of information:
Included are 251,287 cables and 8,000 diplomatic directives
One cable dates back to 1966, but most are newer than 2004
9,005 documents date from the first two months of 2010
Der Spiegel, The New York Times, The Guardian, Le Monde and El País have had access to the files and reviewed them.

None of the documents are classified 'Top Secret', but only 'Secret' at the highest clssification rating. This was also confirmed by Politico's White House correspondent Mike Allen on Twitter, quoting the US administration.
The Spiegel report suggests that the breathless anticipation of the new documents– which are expected to shame both U.S. and international diplomats with their language– will end tomorrow. Then again, the post claiming this was removed from the site, which may mean that the suggested time is either entirely accurate or completely wrong. The suspense continues!
Have a tip we should know? tips@mediaite.com