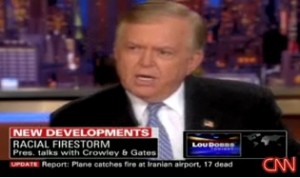 The Nation has a report out today that has generated a bit of heat towards CNN's former 7pm anchor (and fiery advocate of immigration reform) Lou Dobbs, suggesting that he employed a number of illegal immigrants to care for his daughter's horses. The essay, which is entitled "Lou Dobbs, American Hypocrite" goes in to great detail about Dobbs' horse farm and the alleged illegal immigrants who tend to the grounds. If this sounds at all familiar, its because Keith Olbermann reported on this story two years ago, when Dobbs was actually on the air regular attacks on illegal immigrants.
Writing for The Nation, Isabel Macdonald reports:
Since he left CNN last November, after Latino groups mounted a protest campaign against his inflammatory rhetoric, Dobbs has continued to advocate an enforcement-first approach to immigration, emphasizing, as he did in a March 2010 interview on Univision, that "the illegal employer is the central issue in this entire mess!"

His scheduled October 9 address at the Virginia Tea Party Convention will mark his second major Tea Party address of the year, reviving questions about whether the former CNN host is gearing up for an electoral campaign. He recently told Fox's Sean Hannity that he has not ruled out a possible Senate or even presidential run in 2012.

But with his relentless diatribes against "illegals" and their employers, Dobbs is casting stones from a house—make that an estate—of glass. Based on a yearlong investigation, including interviews with five immigrants who worked without papers on his properties, The Nation and the Investigative Fund at The Nation Institute have found that Dobbs has relied for years on undocumented labor for the upkeep of his multimillion-dollar estates and the horses he keeps for his 22-year-old daughter, Hillary, a champion show jumper.
In researching the story, Ms. McDonald spoke to at up to five individuals who she claims to be undocumented immigrants and who were employed by Dobbs. This story appears to be based on some of the information published two years ago in a book titled A Sunday Horse: Inside The Grand Prix Show Jumping Circuit, written by Vicky Moon . In it she writes of the Dobbs' horse scene:"This melting pot of international equine aficionados does not include the countless numbers of illegal Spanish-speaking immigrants who shovel the 40 tons of poop a day."
That was the genesis of Olbermann's "worse persons" segment which you can watch below:
Have a tip we should know? tips@mediaite.com
Colby Hall - Founding Editor