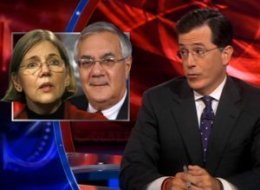 Apparently Stephen Colbert has worn out his welcome in Congress. No doubt he is devastated. Politico is reporting the members of Congress, many of whom have been embarrassingly duped by Colbert's 'interviews' and come out the worse for it, considered last Friday's Congressional testimony the last straw. Or just an excuse to complain more.
Colbert's act had steadily been losing cachet on Capitol Hill, but his spoof testimony merely accelerated a pending divorce.

Lawmakers and their aides are repeatedly turning down requests for "The Colbert Report," political advisers are suggesting members avoid Colbert like the plague and the infamous "Better Know a District" segment that put Colbert on the map on Capitol Hill appears to be dying out.

"My experience with that show is like herpes. It never goes away, and it itches and sometimes flares up," said a former aide to Rep. Lynn Westmoreland, after his boss appeared on the show in 2006.
Apparently the issue is the heavy editing the segments are subjected to to make everyone look like an idiot. Barney Frank says he will only go on live from now on:
"I have done many comedic interviews, but I did not appreciate his humor," Rep. Barney Frank (D-Mass.) told POLITICO, after being teased about being gay during his segment. "I did not understand that his mission was to make every politician look ridiculous. … If I had a chance to do it again, I would only do it live."
Based on what we've seen in this election year I am going to hazard a guess that having Stephen Colbert make them look stupid is the least of Congress' worries.
Have a tip we should know? tips@mediaite.com