A new report contends Republican nominee Donald Trump may have violated laws against "self-dealing" when he spent $258,000 from his charity to settle lawsuits involving his for-profit businesses.
This information comes from The Washington Post's David A. Fahrenthold, who notes that Trump's actions may violate laws that "prohibit nonprofit leaders from using charity money to benefit themselves or their businesses."
Fahrenthold cites Donald Trump's Mar-A-Lago Club in Florida that faced over $100,000 in unpaid fines in 2007. The town of Palm beach, Florida agreed to waive those fines, but only on the condition that the club make a donation to a charity for veterans affairs. Trump sent a check instead from the Donald J. Trump Foundation, "a charity funded almost entirely by other people's money, according to tax records."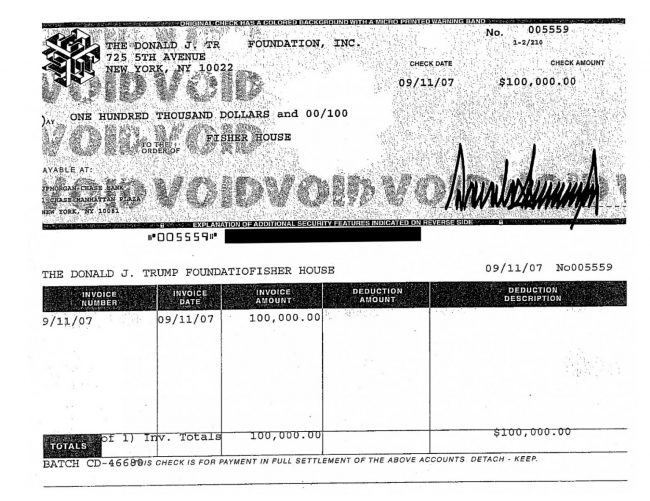 Fahrenthold continues:
The other expenditures involved smaller amounts. In 2013, Trump used $5,000 from the foundation to buy advertisements touting his chain of hotels in programs for three events organized by a D.C. preservation group. And in 2014, Trump spent $10,000 of the foundation's money for a portrait of himself bought at a charity fundraiser.

Or, rather, another portrait of himself.

Several years earlier, Trump had used $20,000 from the Trump Foundation to buy a different, six foot-tall portrait.
Court papers also indicate that one of the Donald Trump's golf courses in New York agreed to settle a lawsuit by donating to the chosen charity of the cases' plaintiff. What resulted was a Donald J. Trump Foundation check in the amount of $158,000.
The IRS could determine that if Trump violated self0dealing laws, he could be required to pay penalty taxes. The news comes at the same time that New York Attorney General Eric Schneiderman is looking into whether of not the Donald J. Trump Foundation broke laws in regarding state charities. The Trump campaign has not provided the Post with a response.
[h/t WaPo]
Have a tip we should know? tips@mediaite.com