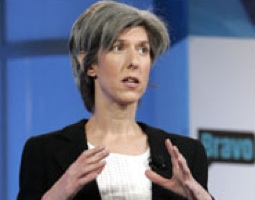 Nikki Finke is reporting that Lauren Zalaznick, the President of NBC Universal's Women and Lifestyle Entertainment Networks, is in "advanced talks" to take over as MTV President of Entertainment, a job recently vacated by departing Brian Graden. If true, why would she leave the string of successes at Bravo to go to the flailing catastrophe that is now MTV Networks? Perhaps because, right now, Bravo couldn't get be any hotter, and MTV is nearly at rock bottom. A perfect opportunity to add to Zalaznick's nearly legendary track record.
Nikki Finke reports:
The line to leave NBCU because of the Comcast-GE-NBCU merger forms here. Granted that a lot of executives either have their resumes out or are being head-hunted for key jobs. Latest is Lauren Zalaznick, the President of NBC Universal's Women and Lifestyle Entertainment Networks who oversees Bravo and Oxygen. Sources tell me she's in advanced talks to take Brian Graden's big job as MTV President of Entertainment running MTV and VH1. It's been vacant since June. As one of my insiders explains, "Word is that post-merger there'll be no upward mobility for her there." Zalaznick isn't just tops in women's TV but should fit in just swell programming MTV swill since she's been responsible for such trashy shows like Real Housewives, Bad Girls, and Tori & Dean.
Zalaznick is no stranger to MTV Networks; before going to Bravo she headed up programming for VH1 in the late 90s hey day, and oversaw the decade defining Behind The Music and Pop-Up Video . At Bravo, she's got a string of recent huge hit, like Top Chef and The Real Housewives franchise to name a few. Truth is, she's made Bravo the watercolor touchstone in the last few years.
On the other hand, to say that MTV Networks has lost their mojo would be an understatement. Its almost sad to look back at the start of this decade and remember that there was a time when VH1 and Bravo were fighting hand-to-hand combat for every precious rating point — and to be fair, VH1 was the early winner. In a pre-social media, viral video era, MTV was the established brand, and had the huge docu-soap progenitor's like The Osbournes and Newlyweds: Nick and Jessica. Oh how the mighty have fallen.
But now, MTV is nearly unbearable to watch (excepting of course their recent hit Jersey Shore, which is great to watch because it is so unbearable.) One wonders what happened to all of the programming talent that once made MTV and VH1 so great? Michael Hirschorn left with reportedly sizable production deal; Fred Graver's contract was not renewed. Lauren Lazin, the woman behind the once might News and Docs department at MTV departed the company somewhat mysteriously. And when was the last time anyone mention Dave Sirulnick, the once brilliant whiz kid who did more to make MTV a serious political player than any one individual.
MTV's leadership once proudly espoused a punk-rock ethos in television programming. But those same individuals (Van Toffler, Judy McGrath, Tom Calderone seem to have been mailing it in for what seems to be the last decade. Brian Graden deserves to be included in this category, though he's already left for a career in show tunes.
So can Lauren Zalaznick can save MTV Networks? It's anybody's guess. But just maybe its beyond repair.

Disclosure – In a previous career in television I have produced programs for MTV, VH1 and Bravo.
Have a tip we should know? tips@mediaite.com