REPORT: Officials Say Trump's 'Uncomfortable' Visit to CIA Made Relationship With Agency Worse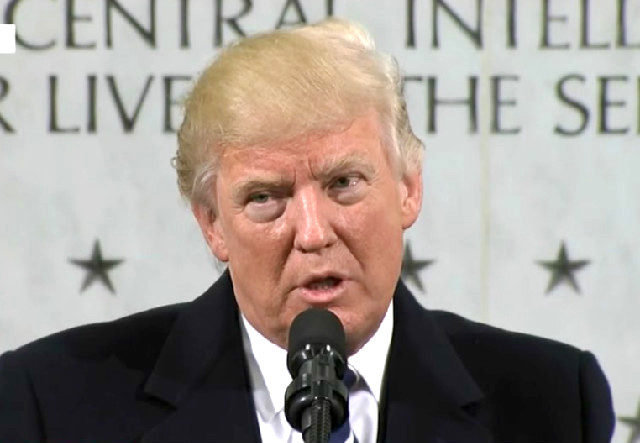 Over the weekend, President Donald Trump paid a visit to the headquarters of the CIA and delivered an address where he spent quite a bit of time railing against the media and talking about his crowd sizes. The speech was criticized by many as being tone-deaf, specifically due to Trump making the speech largely about himself while standing in front of the agency's memorial wall.
Well, it appears that it isn't just the media or the former director of the agency who took issue with POTUS's actions at the CIA. It looks like those within the CIA itself feel that Trump's visit made an already tense relationship worse.
According to CBS News, sources noted that there is a "sense of unease" within the intelligence community following Trump's address. One official said "the visit "made relations with the intelligence community worse" and described the visit as "uncomfortable." "
Officials in the agency would also like to set the narrative straight on the impression that agents in attendance were the ones breaking out in applause when Trump called the media among the most dishonest people around.
Authorities are also pushing back against the perception that the CIA workforce was cheering for the president. They say the first three rows in front of the president were largely made up of supporters of Mr. Trump's campaign.

An official with knowledge of the make-up of the crowd says that there were about 40 people who'd been invited by the Trump, Mike Pence and Rep. Mike Pompeo teams. The Trump team expected Rep. Pompeo, R-Kansas, to be sworn in during the event as the next CIA director, but the vote to confirm him was delayed on Friday by Senate Democrats. Also sitting in the first several rows in front of the president was the CIA's senior leadership, which was not cheering the remarks.
The sources also told CBS that while thousands of CIA employees were invited to attend the event, only about 400 RSVP'd. The White House had claimed that there was a wait to get into the address, something the sources dismissed.
In the weeks leading up to the inauguration, President Trump made several highly critical comments about the intelligence community and the CIA in particular. After it was reported that the CIA concluded that Russia interfered in the election to assist Trump, he called that assessment "ridiculous." Trump also seemingly sided with WikiLeak's Julian Assange and Russia over the intel agencies and with just days left before he took office, he compared the CIA to Nazi Germany.
[image via screengrab]
–
Follow Justin Baragona on Twitter: @justinbaragona
Have a tip we should know? tips@mediaite.com