REPORT: Rupert Murdoch Secretly Sat in on Times of London Interview With Trump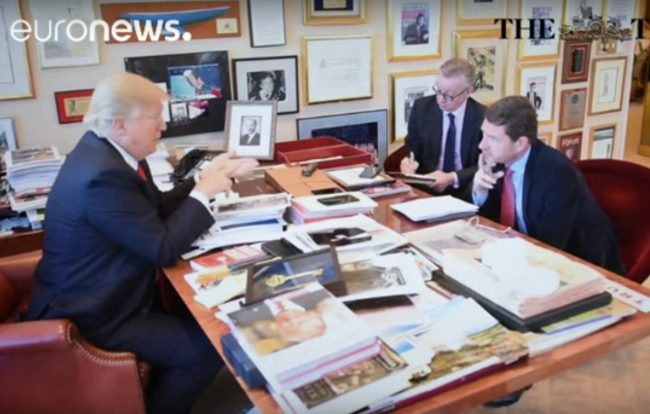 So much for transparency.
A report from The Financial Times indicates that Rupert Murdoch — the longtime News Corp Chairman who just so happens to also be the acting CEO of Fox News now — was secretly sitting just off-camera during an interview last month at Trump Tower between the then-president-elect and the Times of London.
As we detailed at the time, the interview occurred just days before the inauguration between Donald Trump, Michael Gove of The Times, and Kai Diekmann of the German newspaper Bild; the wide-ranging on-the-record talk touched on the relationship between the US and Britain, as well as the future of the European Union and taxing German automotive maker BMW.
But one thing that was conveniently left out of the final reporting of the interview was the fact that Murdoch was secretly in the room the whole time. The Times is owned by News UK, the media entity run by News Corp, which is run directly by Murdoch himself.
And of course, after the debacle and exodus of Roger Ailes from Fox News last year, Murdoch largely occupied the power vacuum left at the top; although Bill Shine and Bill Abernethy were installed to serve as co-presidents, Murdoch has since served as acting CEO of the American cable network.
The optics here are now considerably shaped as a result of the Financial Times' original reporting; while the soon-to-be president was offering his first interview to foreign media companies about the future and development of global relations, the most powerful man at Fox News was sitting just inches away. Photos of the interview that were subsequently released only included the president-elect, Gove, and Diekmann, with no reference to Murdoch's looming secretive presence.
During that interview, Trump touted Britain's decision to leave the European Union as a tremendous success, saying, "If you ask me, more countries will leave." He also touted the potential for trade pacts with the UK, offering, "We're gonna work very hard to get [the trade deal] done quickly and done properly. Good for both sides." He continued to Gove that day, "We'll have a meeting right after I get into the White House and it'll be, I think we're gonna get something done very quickly."
Have a tip we should know? tips@mediaite.com