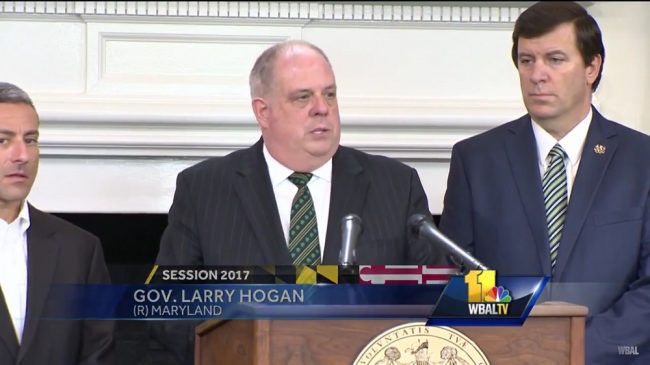 On Monday night, Maryland Governor Larry Hogan vowed to veto a bill that would turn turn the Old Line State into a sanctuary state.
The Republican politician issued a statement after the Maryland House of Delegates passed House Bill 1362 by a 83-55 vote – two votes shy of the number needed to override the promised veto:
My statement regarding the passage of House Bill 1362: #MDGA17 pic.twitter.com/QipfJESmzE

— Larry Hogan (@LarryHogan) March 21, 2017
Reuters summarized the contents of the sanctuary legislation in a Tuesday report. The proposed law would "prohibit state and local police officers from stopping, arresting, searching or detaining an individual for purposes of suspected immigration violations."
The bill also "would also bar police from honoring administrative 'detainer' requests from federal immigration authorities seeking to keep jailed individuals in custody after they should otherwise be released on bond."
Reuters's write-up also noted that "the measure follows in the footsteps of dozens of municipalities and local jurisdictions across the country that have declared themselves 'sanctuary cities'…So far no such statewide designations have been enacted."
The vote came less than a week after a brutal sexual assault at a high school in Montgomery County, Maryland, which borders Washington, D.C. The two suspects, according to local news reports, have been in the country for mere months, and one is currently facing a deportation order. The victim is a 14-year-old freshman girl. Despite the fact that the suspects are 3-4 years older than the victim, they were also enrolled as freshman at the school.
It should be pointed out that despite Montgomery County's denials that they are a "sanctuary" county, ICE includes the entity as among the jurisdictions that "choose not to cooperate with ICE detainers or requests for notification, therefore potentially endangering Americans."
On Tuesday, Governor Hogan responded to the controversy surrounding the high school rape case by calling on the county to cooperate with federal officials:
The State of MD is calling on Montgomery County to fully cooperate w/federal authorities during the investigation: https://t.co/RPoeeRbqfw pic.twitter.com/RXBVY3u3B3

— Larry Hogan (@LarryHogan) March 21, 2017
[image via screengrab]
Have a tip we should know? tips@mediaite.com