Republicans Are Taking on Elizabeth Warren In Her 2018 Senate Race — But Not For The Reason You Think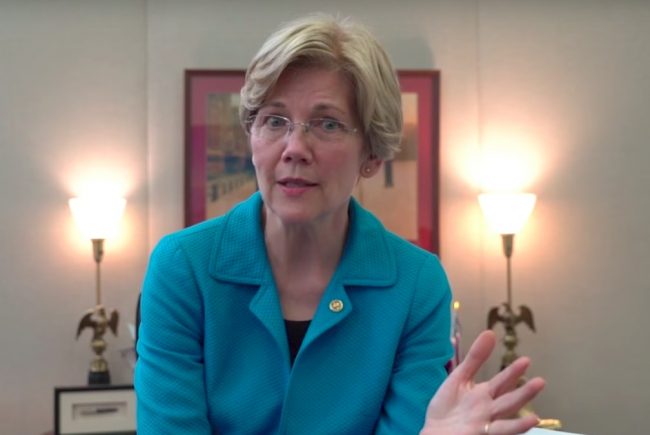 Republicans are taking out their knives for Elizabeth Warren and preparing to hit her where she lives in Massachusetts. The firebrand liberal is up for reelection in 2018. While she is expected to coast to an easy victory, the GOP is after something bigger.
In an interesting piece in McClatchy, a number of Republican operatives opened up about their desire to throw everything they have at her in 2018 — not because they think they can beat her the Bay State — but so that they can damage her chances in a presumed 2020 presidential run.
While not exactly a new face — or particularly young — Warren has an undeniably Bernie-esque appeal to the Democratic base and its restive liberal wing. If she did run, the crowds would likely be massive and the fundraising potential, virtually unlimited.
And Republicans are not taking any chances, telling McClatchy that 2018 was a critical moment to help define the "narrative" for Warren among the general public. Colin Reed, executive director of the Republican aligned America Rising, spoke approvingly of similar efforts toward Hillary Clinton.
"We learned from our experience with Secretary (Hillary) Clinton that when you start earlier, the narratives have more time to sink in and resonate with the electorate," said Reed. America Rising has vowed to "play the long game," as McClatchy put it, with regards to the Senator.
Warren passed up an opportunity to run in 2016, allowing Hillary Clinton to consolidate Democratic women (sort of) behind her. She ultimately endorsed Clinton's doomed bid for the presidency. Her ongoing feud with President Donald Trump — who calls her Pocahontas — has fueled speculation that she has the 2020 race in her sights.
[image via screengrab] 
Have a tip we should know? tips@mediaite.com