'Revolution' Reportedly Shouted by Shooters Before Killing 2 Officers Near Vegas Walmart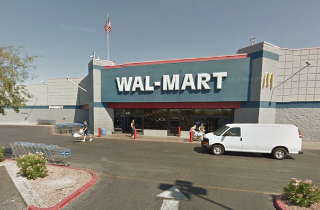 According to the Las Vegas Review-Journal, a terrifying shootout ended in the city Sunday afternoon with five deaths, including two officers and the two shooters.
Sources within the Vegas PD told the Review-Journal that two officers were ambushed by a man and a woman at a CiCi's Pizza restaurant shortly before noon. One officer was reportedly dead at the scene, the other died in surgery.
Several witnesses recalled to police that one of the aggressors yelled some variation of "this is the start of a revolution" or "the revolution has begun" before firing at the officers. They then allegedly removed the weapons and ammo from the officers and went into a nearby Walmart, where witnesses claim to have heard shots fired in "quick succession."
More details, via Review-Journal:
One unconfirmed report is that the two exchanged gunfire with a citizen who was carrying a concealed weapon, and that one of the shooters was injured. Police confirm that at least one civilian at the Walmart was shot and killed.

At a news conference at about 1 p.m. Assistant Sheriff Kevin McMahill said the male shooter, described as a tall white man, yelled "everyone get out" before shooting.

The man and woman then went to the back of the store and "there was some kind of suicide pact," McMahill said.

Both shooters were reportedly carrying large duffle bags, and a bomb squad was called to the scene. It's unclear at this time what, if anything, was found in the bags. A fire department official said the bomb squad response was "a precaution."
Read the full report here and check back for breaking developments.
[Image via Google Maps]
Have a tip we should know? tips@mediaite.com