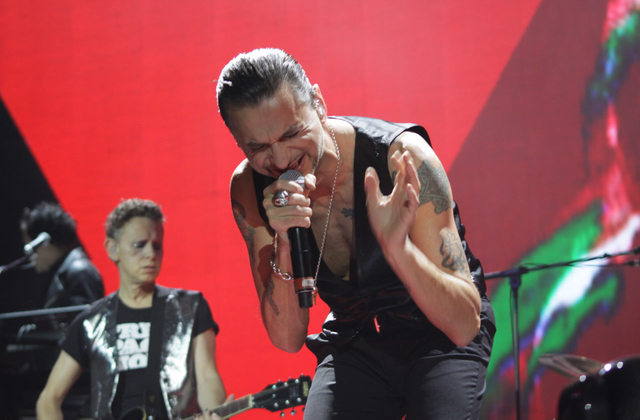 Moments before he got thrown out of CPAC on Thursday, alt-right leader Richard Spencer was giving an interview to Olivia Nuzzi of New York Magazine, during which he dropped this surprising nugget:
About an hour later, after the band's devoted fandom had already started recoiling in horror, Spencer amended his statement:
Whichever way you slice it, whether he was or wasn't joking about what he felt was Depeche Mode's greater political significance, the whole thing is a bit curious. It's not exactly a secret that Depeche Mode's members lean to the left of the political spectrum; it's been well-known for almost three and a half decades, going back to the release of their third album, "Construction Time Again," in 1983. At the time, X. Moore (Chris Dean) wrote in British rock magazine NME that the album was akin to the "Labour Party manifesto," and while the politics faded out of their work, it was still upfront a year later in one of their most famous songs, "People Are People."
Meanwhile, much of the publicity for their new album, "Spirit," due out on March 17th, and the lead single, "Where's the Revolution" (like a Rolling Stone interview three weeks ago) has been about the somewhat obviously Donald Trump-themed lyrics. "As I get older, the things going on in the world affect me more. I think about my kids and what they're growing up into," said lead singer Dave Gahan. "My daughter, Rosie, was deeply affected by the election last year. … She just sobbed, and I was like, 'Wow.'"
As for Spencer, a spokesperson for the band sent a statement about his comments to Esquire:
That's pretty ridiculous. Depeche Mode has no ties to Richard Spencer or the alt right and does not support the alt right movement.
An otherwise identical version of the statement sent to Death and Taxes Magazine opened with "Really ridiculous!" instead of "that's pretty ridiculous."
[image via Shutterstock]
Have a tip we should know? tips@mediaite.com