Update: Rick Perry Draws Fire Over Abridged, Out Of Context 'Big Black Cloud' Quote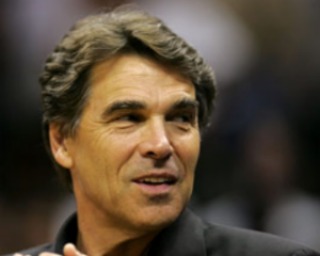 Barely days into his official presidential campaign, Texas Gov. Rick Perry has been a gusher of controversial quotes, calling President Obama's patriotism into question, making vaguely threatening statements about Fed chairman Ben Bernanke, and now, making what some see as a blatant reference to President Obama's race by saying that "a big black cloud" is hanging over the country. AURN White House Correspondent April Ryan, for one, wasn't shy about calling Perry out.
Update: Video of Perry's remarks shows he was referring explicitly to the debt. Full story here.
ABC News' Michael Falcone and Arlette Saenz report that Perry made the remark at the Iowa State Fair on Monday, while delivering remarks at the Des Moines Register Soapbox:
"He says he's on a listening tour," Perry said, "so I'm going to talk to him."

"Mr. President, you need to free up the employers of this country to create jobs." Perry called on Obama to "free up this country" from "stifling regulation."

"I'm a pro-business governor, I don't make any apologies about it and I will be a pro-business president."

Perry warned that a "big black cloud" hangs over the country.
The quote has been held up as a not-so-veiled reference to the President's race. Loop21's Maurice Garland translated Perry's remark:
After that he said that a "big black cloud" was hanging over the country. In Perry-speak that means there's a "big black guy running the country and I'm not too happy about it."
Garland went on to say that he "hope(s) (Perry) doesn't actually start 'hanging' these big black clouds he speaks of."
Veteran White House reporter April Ryan, who was recently elected to the board of the White House Correspondents Association, was quick to call Perry out via her Twitter feed, tweeting "Rick Perry's words 'a black cloud over this country.' He knows exactly what he is saying and appealing to. Perry has to remember if he is President he would be POTUS over all including black america who are part of his 'black cloud.'"
Ryan, who has been one of the most aggressive questioners of the Obama Administration, told me that this statement shouldn't be judged in a vacuum. "People aren't stupid. Big black cloud, take back our country, these are code words, and people aren't stupid."
"This country has too many issues to be dealing with these racial games." Ms. Ryan continued. "Deal with the issues on their merits, and do not appeal to folks because you don't like their skin tone.  If I remember President Obama is mixed.  The Perry quote is offensive to me as an African American woman.  The country needs help and subtle racial remarks are just a diversion from the issues.  Deal with the issues that I can report on, to inform all of America."
Feministing.com contributor Zerlina Maxwell allows for the possibility that Perry's remark was innocent, but also sees it in context with his other recent statements:
While Perry seems to be referring to the dire economic situation it is a very peculiar turn of phrase to be sure. Does this "big black cloud" have a name? Is the "big black cloud" named President Barack Obama? Next, you'll here him doing his best Newt Gingrich impersonation talking about a Kenyan anti-colonialist cloud. It's possible that this is totally benign, however in an election cycle rife with dog whistles on the right, my ears are particularly sensitive these days.

…If the past 24 hours are indication of what is to come, this is going to be an ugly election season full of pandering, racial dog whistles, and sexist tropes. Awesome.
I contacted Governor Perry's office, and the ABC News reporters who wrote the story, to see if they could provide a fuller context for Gov. Perry's remark. As yet, neither of them has responded.
In a presidential campaign that has already seen more than its fair share of race-baiting, Gov. Perry's remark was ill-advised, at best. If he didn't choose those words carefully, then perhaps, going forward, he should.
Have a tip we should know? tips@mediaite.com