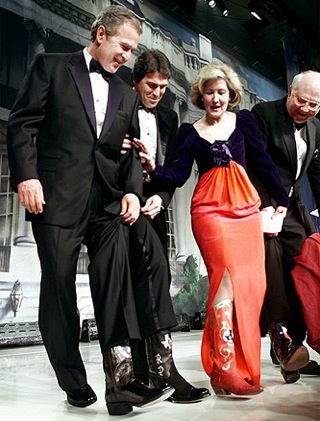 Glenn Beck is no stranger to reminding his audience that he was once an alcoholic– or that he has some suspicions about Chris Matthews' imbibing habits. On his radio program this morning, however, he devoted an entire drunk routine to the MSNBC host, mocking his comment that Texas governor Rick Perry "dresses really fancy" and claiming that the only way Matthews could argue this is if he was "knocking back the sauce."
Beck and co-host Pat Gray played a clip of Matthews complaining that there was something "off" about Perry– "he dresses really fancy… it's like he's a wax figure pretending to be governor." After laughing uncontrollably at the comment and challenging the "fancy" comment's effectiveness as an attack ("he should dress like a slob?"), Beck and Gray tried to explain the other part of Matthews' gripe: that Perry wears boots with his tuxedos. "You're from Texas," Beck explained, "you wear swimsuits and boots… you wear the boots so you can crush the heads of snakes with your heel." He added that if Matthews' best attack was that "he wears clothing that people don't understand in other parts of the country," Perry was doing fairly well.
Gray then played the rest of the Hardball clip, where Matthews turned to a panelist and said something to the effect of "you're a political expert– haven't had a chance to [unintelligible]," which sent both co-hosts into a fit of laughter. "I'm saying this as a long-term alcoholic," Beck began, "to be able to pull off a sentence like that is extra extraordinarily difficult when you are just knocking back the sauce." The end of Matthews sentence didn't help: "is this guy really the Perry on top of this cake?"
"Give him credit, he's drunk," Beck insisted, adding, "you remember when I was drunk? Remember? I couldn't have done it!" He then does an extensive drunk routine, as Chris Matthews, where he slurs repeatedly "he's wearing boots! and a tux!" and tells Gray, "I love you, man!"
Ultimately, Gray didn't join in on definitively calling Matthews an alcoholic, though the damage had been done. "I think he's just that bad," he shrugged.
The segment from Beck's program this morning below:

[h/t]
Have a tip we should know? tips@mediaite.com