Warren Buffett: GOP Candidates 'Pathetic' For Staunch Opposition To Raising Taxes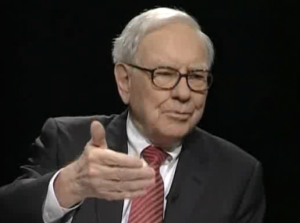 After writing an op-ed for The New York Times calling for taxes to be raised on the super-rich, billionaire Warren Buffett spoke to Charlie Rose last night to expand upon his views, and at one point went after the Republican presidential candidates for their commitment to never raise taxes.
Buffett first went over the basic premise of his op-ed, arguing that wealthy business owners are not paying the same proportion of taxes as the people working for them, and added that he also believes spending cuts are crucial to fix the economy. But on the issue of taxes, he stressed that a vast majority of Americans would not even feel the effects of his proposal.
What I propose, incidentally, would not touch the taxes of 99.7 percent, I'm talking about three-tenths of one percent of the American public. But the people from a million dollars on up should be asked to share in a little of the sacrifice we're all being asked to share.
He also addressed the Federal Reserve's decision to keep interest rates incredibly low over the next two years.
"When they say 'We're going to keep rates low until 2013,' they're really saying the economy's not going to be very good until then… I think there's a chance they're wrong. I think [the U.S. economy] may pick up before then."
But it was his comments on the Republican party that have attracted the most media attention today. Buffett did not react well to seeing all of the GOP candidates saying they would not accept a deal that put spending cuts and tax increases at a 10-1 ratio.
"That was pathetic… I mean, listen, I like Republicans. If you got Democrats on some core issue to them, they'd probably do something just as silly. But when they take that attitude, they are really saying, you know, "I want to win this primary." They are saying, "The country be damned, I want to win this primary."
Click here to watch the full interview.
Have a tip we should know? tips@mediaite.com
Josh Feldman - Senior Editor