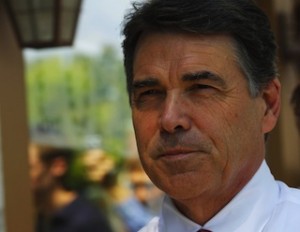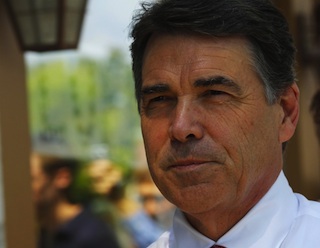 Some react to election results by accepting the results and moving on, others make empty threats about seceding from the United States. There are a number of petitions on the White House's "We the People" site calling for states to secede, most notably Texas. That particular petition has received over 60,000 signatures in less than four days. But Texas governor Rick Perry, who once attracted national attention by talking about possible secession, is firmly denying that such a move would take place.
RELATED: The Real Truth About Gov. Rick Perry And Secession
Before his unsuccessful bid for the presidency, Perry stirred up controversy by suggesting that Texas might secede from the United States. One top GOP official in Texas is now calling for an "amicable divorce" from the "maggots" who voted for President Obama, but Perry has already come out against any such plan.
Perry's press secretary sent the following statement to the Dallas Morning News earlier today.
Gov. Perry believes in the greatness of our Union and nothing should be done to change it. But he also shares the frustrations many Americans have with our federal government. Now more than ever our country needs strong leadership from states like Texas, that are making tough decisions to live within their means, keep taxes low and provide opportunities to job creators so their citizens can provide for their families and prosper. We cannot allow Washington's tax and spend, one-size-fits-all mindset to jeopardize our children's future, undermine our personal liberties and drive our nation down a dangerous path to greater dependence of government.
The online petition has already met the 25,000 signature threshold to get the White House to issue a response, but none has been posted on the website yet.
h/t POLITICO
Have a tip we should know? tips@mediaite.com
Josh Feldman - Senior Editor