Rick Sanchez on GMA: Takes "Full Responsibility," Brings Up Lack Of Diversity In Prime Time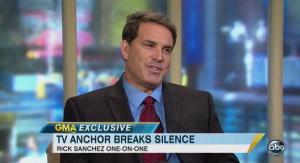 Rick Sanchez appeared on ABC's Good Morning America this morning in an interview with George Stephanopoulos – his first interview since being fired one week ago.
While he appeared remorseful, it is clear he is still bitter about the Daily Show ribbing and still feels there is something behind the lack of diversity in prime time cable news.
"I know this has not been the easiest week for you, but you're still smiling," said Stephanopoulos to start the interview. "It's tough. I screwed up, George," said Sanchez.
Here's his first explanation:
I was tired. I'd been working 14 hour days for like two and a half months. I was doing three shows, I was exhausted. It was right off the air. My daughter had a softball game I desperately wanted to go to and I was a little impatient.
He said the comments he made were "offensive." "It was my mistake, I screwed up, I take full responsibility. It's not CNN, it's Rick Sanchez," he said.
It took him about two minutes before he, unprovoked, picked up and said the name of his book, Conventional Idiocy (he did it one more time in the interview as well). Sanchez also brought up the lack of diversity on cable news, and pointed to that as a reason he was "feeling a little sensitive." But he kept bringing it back to Jon Stewart – it would have been interesting to hear his response if Stephanopoulos changed the line of questioning to Sanchez' own bosses at CNN, who he called out in the radio interview as well (and, most likely, let to his eventual firing).
Then, this happened: Sanchez asked Stephanopoulos, "How many feet and how many inches are there in 10 meters?" You probably know where this is going. Stephanopoulos said 330 feet. Sanchez said it was "11 or something." (It's 33.) Sanchez thought Stewart was making fun of him for the fact that he didn't know how many feet were in a meter – but that misses the point. Sanchez asked his guest to tell him what meters were "in English." And it was the way he said it. You can check that out here.
Also, there has to be some ironic punishment to the fact that Sanchez shared the GMA spotlight this morning with… Lou Dobbs.
Here's the full interview – including Sanchez' third-person-filled closing:


—–
» Follow Steve Krakauer on Twitter
Have a tip we should know? tips@mediaite.com