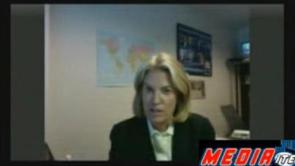 Greta Van Susteren was a guest on our return to Office Hours yesterday, and the wide ranging conversation included Gloria Allred, Sarah Palin and Hillary Clinton.
But Van Susteren also revealed how she helped give new CNN host Eliot Spitzer his start on TV.
Before Van Susteren began her now nine-year career at Fox News, she spent almost as much time at CNN. And as she watched Parker Spitzer this week, she recalled how she first met Spitzer.
I know Eliot because Eliot got his start on TV about 1995, 1996. Before he was state attorney general, he used to be a frequent guest on CNN's Burden Of Proof as a former federal prosecutor. And of course, I was one of the co-hosts. So I've known Eliot for almost 15-20 years.
Van Susteren also is familiar with Kathleen Parker, who she spent time with while traveling around the Middle East with then First Lady Laura Bush. As for a review, "In cable news a show doesn't develop its identity, in terms of what its going to be, probably three for five six months, because it really is a work in progress…While I like them very much, I certainly hope that they never beat us."
Of CNN as a whole, Van Susteren said, "They're desperate. They're in constant flux."
Van Susteren also talked about her two recent interviews with Allred. "The process should be fair," she said of the California race. "There shouldn't be some of this gamesmanship, and Gloria is inserting herself into it, in a very volatile issue having to do with the Latino vote."
As for politics, we asked Greta about Palin. "I think the media makes a big mistake taking a swipe at Sarah Palin," she said, while calling her "as qualified as any other potential candidate I've seen."
Finally, Joe Biden got a shout-out as well. "The man is experienced, and he certainly is capable of doing the job," said Van Susteren.
Check out our full interview with Greta yesterday – including her thoughts on Jon Klein, Hillary VP 2012 rumors and more:

—–
» Follow Steve Krakauer on Twitter
Have a tip we should know? tips@mediaite.com