Rick Santorum Answers Question On SOPA: 'There Are Limits To Freedom On The Internet'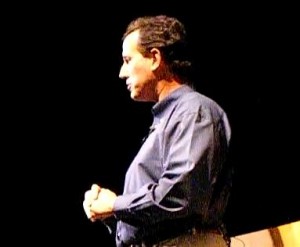 In the midst of all this talk of jobs and wars and families, one of the issues the Republican presidential candidates have not addressed that much is the internet. Specifically, their positions on regulating the internet. Over the weekend, Rick Santorum was asked by a New Hampshire resident during a campaign stop if he supported or opposed the Stop Online Piracy Act (SOPA), which would give the government more authority to regulate the internet and crack down harder on piracy.
Considering how much the Republican party of late has been concerned with government overreach, Santorum has been a surprisingly strong defender of big government conservatism in this race. And his opinion on online piracy remains consistent with these principles. Santorum explained that from his perspective, not every right or freedom is unlimited, and there need to be regulations in place to limit the extent of a certain right.
"There is, and can be, a limitation on that. You know, freedom of speech. The things you can't say. You can't cry 'fire' in a crowded theater. And there are limitations to all freedoms. They're not absolute rights. They are rights that have responsibilities that come with them, and if you abuse those rights… then you have a consequence of you using that right."
Santorum identified piracy as an abuse of one's rights. While acknowledging that the internet can be "a powerful force for good," he argued that making it a "regulation-free zone" would be the wrong approach. He did not specifically say that he endorsed SOPA, given that he admitted he is not very aware of the bill's provisions. But he did give an incredibly forceful argument for cracking down on piracy and the unrestrained right to do whatever you want on the internet.
h/t DaTechGuyBlog
Have a tip we should know? tips@mediaite.com
Josh Feldman - Senior Editor