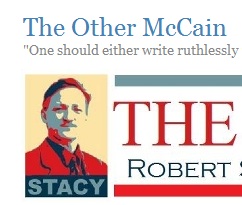 Popular right-wing blogger Robert Stacy McCain (The Other McCain) has used an examination of Julian Assange's sexual assault allegations as a springboard to a jaw-dropping assessment of the right of a woman to withdraw consent for sex. Feministe blogger Jill Filipovic makes the point that, whatever their veracity, allegations against Assange are not confined to failure to use a condom, and explains that "no" means "no" even after you've closed escrow.
RS McCain thinks this is "unadulterated nonsense," and provides this handy warning to all of his future dates: "You buy the ticket, you take the ride."
Update: Jill Filipovic responds, and McCain kinda walks it back, but not really.

I've met McCain twice before, at consecutive CPACs, and I got along well with him, so my first thought was that I had to be missing something. Unfortunately, there doesn't appear to be much wiggle room here. First, McCain bolds the portions of Filipovic's post that he finds to be "unadulterated nonsense," isolated here:
If you consent to sex but then at some point during sex withdraw that consent by telling your partner to stop, your partner should stop, and if your partner doesn't stop then that's assault. . . .

…Consenting to one kind of sexual act doesn't mean that you consent to anything else your partner wants to do;
As simple as that sounds, McCain sees a mid-intercourse cry of "STOP!" as the basis for complex "negotiations," and papers over his disturbing premise with cutesy euphemisms for sex:
In an era when some 40% of U.S. births are to unmarried women, in a culture where "Girls Gone Wild" and "hook-ups" are normative, where threesomes, bisexual experimentation and amateur video-porn orgies have become a virtual rite of passage for many young Americans, where chlamydia and herpes are pandemic — in this era of rampant sexual decadence, I say, does Jill Filipovic (J.D., NYU) seriously expect horny strangers to negotiate consent calmly on an act-by-act basis while they're knocking boots, making the beast with two backs, in flagrante delicto?

Listen up, sweetheart: You buy the ticket, you take the ride.
I can't wait to see that catchphrase on McCain's eHarmony profile.
Apparently, McCain thinks that Illeana Douglas' Cape Fear character should've just said "My bad!" when her "ticket" included having her cheek bitten off.
I encourage readers to check out Jill Filipovic's entire post, which raises some great questions about US consent laws. As for McCain, I hope he stops taking his views on sexual consent from The Lost Boys; your penis is not the head vampire, and a lone invitation to enter doesn't entitle you to wreck the place.
Update: I reached out to Jill Filipovic for her reaction to McCain's piece. Here is her response: (via email)
I'm not sure what RS McCain thinks rape actually is, other than punishment for women who are slutty enough to leave the house and talk to men.  He says in his post that if "you buy the ticket, you take the ride," which I guess means that if you go on a date with someone or kiss someone or have any sexual interaction at all with someone and they end up forcing you into sex, it's your fault and you aren't a victim "of anything except your own stupidity."  McCain's position seems to be that women who have sex should either expect to be raped or, alternately, can't be raped — he calls "promiscuous" women "not-so-innocent bystanders" in their own assaults (and promiscuity is defined as doing anything other than hand-holding, as he's against "heavy petting" before marriage and kissing on first dates).

This isn't really new material.  "She was asking for it because she went out with him / wore a short skirt / flirted / had sex with him before / went to that party / kissed him / etc" is such an antiquated and tired justification for rape that I'm almost more offended by the lack of creativity and hoariness of it than I am by the actual content (almost).  Although I will say that "Listen up, sweetheart: You buy the ticket, you take the ride" is new and interesting phrasing from someone who also says he isn't a misogynist rape apologist.

Disturbing and wrong-headed as his articles are, I can't take him all that seriously — his ideas about sexual assault and women's rights seem to be about as rational and modern as his thoughts on race (See: Slavery wasn't wrong, interracial marriage is repulsive).  Usually my modus operandi for white supremacist He-Man Woman-Haters on the internet is "close tab"; it's really a shame that RS McCain is embraced by the right-wing blogosphere and that his writing is widely featured on some of the most heavily-trafficked conservative websites, so I can't ignore his "sluts were asking for it" mutterings quite as easily as I'd like.
Meanwhile, McCain posts a semi-walkback at HotAir's Green Room, in which he generously allows that "'No' means 'no' and 'stop' means 'stop,'" but remains confused about the process of "negotiating" consent. Clearly, accused rapists are the victims here:
OK, let's all agree: "No" means "no" and "stop" means "stop."

And if she says, "Slower, and a little to the right," you'd better comply instantly, buddy, or you can expect to find yourself in court explaining to a jury why you didn't provide her with exactly the sort of sexual experience to which she consented.
Yes, McCain is making up an argument to argue against. Filipovic's original post could not have been clearer, but go and read it again, and show me where the "confusion" is.
Have a tip we should know? tips@mediaite.com