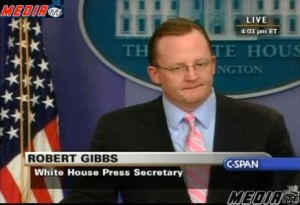 The subject of Republican obstructionism came up at yesterday's White House briefing, as Helen Thomas asked Robert Gibbs to explain why the GOP, along with a small minority of Democrats, oppose everything the administration tries to do. Gibbs shied away from criticizing conservadems, but when asked if he could shame elevator cop Jim Bunning, Gibbs said "I'm trying as best I can!"
Transcript:
HT: I had two questions. The first one is moot now, but why did the President not give any voice to single-payer and to the government plan during the whole debate? The second question is, why are the Republicans and some Democrats so solidly against everything you proposed?

MR. GIBBS: An excellent question.

HT: They're both wise. (Laughter.)

MR. GIBBS: You're a validator for that.

Look, let me take the second question. I was reading an article before I came down about the fact that the filibuster is on a record-breaking pace in this Congress. We've seen the notion of either an actual filibuster or the threat of a filibuster used unlike we've ever seen before. We have — and we mentioned this on Friday, we can't even get an emergency extension of health and unemployment benefits for those whose benefits expired at midnight. We can't even get agreement on moving forward with that. In fact, you can't even get an agreement with the person holding that up to let us — to let the Senate vote on what he wants to hold up.

HT: Why don't you shame him?

MR. GIBBS: Well, I'm trying as best I can. (Laughter.)

HT: Why don't you use his name?

MR. GIBBS: I did on Friday — Senator Bunning for Kentucky —

HT: Does he want everyone to run out of benefits?

MR. GIBBS: Look, sometimes even using their names doesn't create the shame that you would think it would normally engender when there are people that lost their unemployment benefits because one person decided they were going to gum up the works. It's just never — it's just not how it's ever worked. I don't know why. I don't know why.
It's only recently that the Democrats no longer hold a 60-seat majority in the Senate, yet the administration has pretty much given a pass to the handful of Senate Democrats who stood in the way of the President's agenda every step of the way. While Bunning's actions are, without a doubt, shameful, perhaps the administration should think about expending a little bit of that finger-wagging at people who are supposed to be on their side, and are supposed to know better.
Have a tip we should know? tips@mediaite.com