Rockette on Trump Inauguration Gig: My Castmates Feel 'Forced to Perform for this Monster'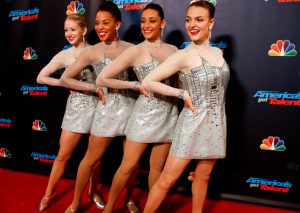 As Donald Trump's transition team reportedly continues to struggle to book major entertainment acts for next month's inauguration, The Rockettes currently stand as one of the only major acts to have signed on. But it was soon reported that many were being forced to perform, which prompted the Madison Square Garden Company — which employs the dancers — to issue a statement saying that participation for each individual Rockette was voluntary.
The Rockettes have not commented on any of these developments, but an unnamed member of the world-famous troupe spoke out to Marie Claire in a piece published Tuesday AM and said disputed the validity of The Garden's decree that they weren't required to dance at the Inauguration.
"She felt she was being forced to perform for this monster," the unnamed Rockette said of a castmate. "I wouldn't feel comfortable standing near a man like that in our costumes."
Now, the dancer fears a backlash against the Rockettes — noting that seats that were typically filled for Chirstmas-week shows this years went vacant in 2016.
"This is making our show, our job, our name, branded as right-wing. An extreme right-wing," the Rockette said. "There's a reason why everyone else is turning this down. Why are we not?"
The dancer also noted the lack of diversity among the Inauguation performers — as, according to the report, none of the participating dancers are women of color.
"It's almost worse to have 18 pretty white girls behind this man who supports so many hate groups," the Rockette said.
The Rockette spoke of tension in the ranks between those who refused to perform, and those who accepted the gig.
"There is a divide in the company now, which saddens me most," the Rockette said. "The majority of us said no immediately. Then there's the percentage that said yes, for whatever reason—whether it's because they're young and uninformed, or because they want the money, or because they think it's an opportunity to move up in the company when other people turn it down."
Check out the full interview with the Rockette here, via Marie Claire.
[image via Shutterstock.com]
–
Follow Joe DePaolo (@joe_depaolo) on Twitter
Have a tip we should know? tips@mediaite.com
Joe DePaolo - Senior Editor