Rockettes' Owner Stands Firm on Inauguration Performance in Closed Door Meeting With Dancers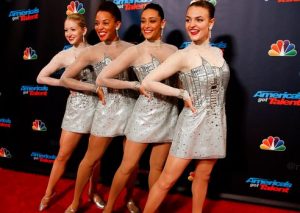 Last week, an unnamed member of the Rockettes spoke to Marie Claire about their scheduled performance at the Inauguration of President-elect Donald Trump. The unidentified dancer said she "wouldn't feel comfortable standing near a man like that."
On Tuesday, Marie Claire published an account of a closed door meeting at which Madison Square Garden Company chairman James Dolan — who made the decision for the Rockettes to perform at the inauguration — defended his call to have the Rockettes appear.
"Every four years we put in a new president," Dolan reportedly said. "It's a huge moment in the country's history. It usually signifies a whole change in how the government is going to run. The fact that we get to participate in it…we are an American brand, and I think it's very appropriate that the Rockettes dance in the inaugural and 4th of July and our country's great historical moments."
Some of the dancers reportedly voiced a concern that the Inauguration performance would tarnish the Rockettes' brand. Dolan said he didn't think that would be the case.
"I don't believe it's going to hurt the brand," Dolan reportedly said. "And nobody is more concerned about that than the guy sitting in this chair. I'm about to spend $50 million remounting this summer show. I'm going to spend a similar amount remounting next year's Christmas show. I gotta sell tickets."
One Rockette reportedly said: "The social media backlash on both sides of the political spectrum has been unbearable, I think. Especially as someone who has loved and respected the Rockettes since I was three years old. I think that the Rockettes have always been apolitical, and now by performing at this particular inauguration, it's making us political."
But that statement and other concerns voiced in the Dec. 27 meeting were apparently not enough to move Dolan to cancel the performance.
In a statement provided to Mediaite by the Madison Square Garden Company, chief communications officer Barry Watkins blasted the unnamed Rockette who spoke to Marie Claire, and said she does not speak for the entire troupe. He also denounced Marie Claire for publishing her account of the closed door meeting.
This is one person who continues to attempt to represent the entire team of Rockettes.  This time it's in a story that is the result of an unauthorized recording that violated the confidentiality of all of her sister Rockettes. While Mr. Dolan stands behind everything he said during the meeting, no one in that room believed they were speaking publicly. Everyone in the meeting had the chance to speak their mind in a safe setting, and many did. Her secret recording was deceitful and cowardly and has betrayed all of her fellow Rockettes. Posting this story is beneath the ethical standards of Hearst. We are deeply disappointed in their decision to post this story.
[image via Shutterstock.com]
–
Follow Joe DePaolo (@joe_depaolo) on Twitter
Have a tip we should know? tips@mediaite.com
Joe DePaolo - Senior Editor