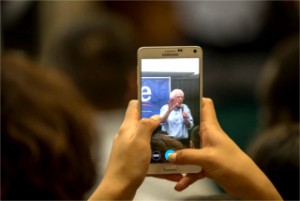 In the days following the kerfuffle at the Nevada Democratic Convention, several irate Bernie Sanders expressed their displeasure with the party by sending harassing texts and voicemails to the state's Democratic chair Roberta Lange. (A sample of them is available here.)
In the process of releasing some of those messages to the press, the party divulged not only the missives, but the senders' phone numbers as well.
Rolling Stone's Tessa Stuart contacted a number of the pro-Sanders trolls to ask about their allegiances, their intentions, what was going through their head when they grabbed their phones, and how they thought their actions could impact the election, if at all.
All are ardent Bernie supporters and not, as some have posited, Clinton shills acting out in an effort to discredit the Sanders campaign. None of the people Stuart spoke to were physically present at the convention in Nevada, and none acknowledged that their messages could be considered threatening.
Here is a small sample of a conversation with one of the Sanders' supporters, Austin:
What was going through your head when you sent the texts?
People get upset about stuff, and they say things in the heat of the moment. I regret saying anything I may have said that may have been offensive or taken as a threat, yeah. Anything that I've ever said to anybody, of course, I regret that. In this specific situation, I would definitely say that I would regret saying anything like that. I don't have any ill will toward anybody, any political establishment, or party, or campaign, or [anyone] associated with any of those people.
And with Tyler, who posted to Facebook a screengrab of himself telling Lange she was "unamerican" and would soon be "jobless."
Did you intend your message as a threat?
Like, from a legal perspective… I didn't make it a direct threat. There's an implication, and I'm implying, right? I'm inferring that I could do something, but I was doing that to show — it was kind of just a, Hey, let's set the mood here and see if anything will happen.
You can read the complete report at Rolling Stone.
[image: Phil Roeder via Flickr]
Have a tip we should know? tips@mediaite.com