Rolling Stone Defends Tsarnaev Cover: Story 'Falls Within The Traditions Of Journalism'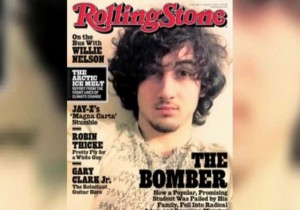 The magazine Rolling Stone has garnered quite a bit of outrage over featuring accused Boston Marathon bomber Dzhokhar Tsarnaev on the cover of their upcoming issue. Every single one of their Facebook posts since the announcement of the cover has gotten a myriad of angry comments demanding they change the cover design, with some people suggesting the magazine cover highlight victims or first responders. Rolling Stone has now put out a statement defending its editorial decision to portray their story in such an in-your-face manner.
RELATED: 'Go To Hell': Disturbed Vocalist Condemns Rolling Stone For 'Glorifying The Acts Of A Terrorist'
The statement comes on the heels of a similar defense by MSNBC host Touré, condemnation by the mayor of Boston and the governor of Massachusetts, and the announcement that the pharmacy chain CVS is refusing to stock the issue on its shelves.
Here is Rolling Stone's statement:
"Our hearts go out to the victims of the Boston Marathon bombing, and our thoughts are always with them and their families. The cover story we are publishing this week falls within the traditions of journalism and Rolling Stone's long-standing commitment to serious and thoughtful coverage of the most important political and cultural issues of our day. The fact that Dzhokhar Tsarnaev is young, and in the same age group as many of our readers, makes it all the more important for us to examine the complexities of this issue and gain a more complete understanding of how a tragedy like this happens."
The question is, though, did they have to put the accused terrorist's mug on the cover in order to get that point across? You can read the cover story here, so decide that for yourself.
—–
Follow Josh Feldman on Twitter: @feldmaniac
Have a tip we should know? [email protected]
Josh Feldman - Senior Editor