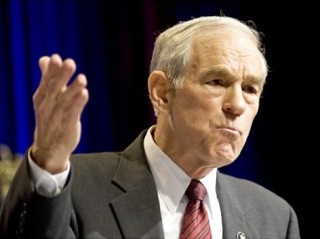 In Manchester, N.H. today, Republican presidential hopeful Ron Paul offered a moment of pause this morning when he condemned the Obama administration for killing American born Anwar al-Awlaki without due process. "To start assassinating American citizens without charges," he warned, "we should think very seriously about this."
"Nobody knows if he ever killed anybody," Paul told students and reporters at Saint Anselm College. "If the American people accept this blindly and casually that we now have an accepted practice of the president assassinating people who he thinks are bad guys, I think it's sad."
Paul, a staunch libertarian and a noted opponent of the wars in Iraq and Afghanistan, voiced concern that U.S. authorities "have never been specific about the crime" and that Awlaki, an American citizen,"was never tried or charged for any crimes."
"I don't think that's a good way to deal with our problems," he continued.
Paul is not critical of the fact that Awlaki is dead, but rather he is worried that Awlaki's kill order sets a new and unconstitutional precedent. In this, he is not alone. As the New York Times reported in April of this year when Awlaki's targeted killing was first approved, "It is extremely rare, if not unprecedented, for an American to be approved for targeted killing." And although it's believed that, as an official was quoted the Times' report put it, "Awlaki knows what he's done, and he knows he won't be met with handshakes and flowers," the legal case against him has remained largely speculative.
Salon's Glenn Greenwald argues — in a piece likely to be often cited in the coming days — that the order for Awlaki's killing ignored the Fifth Amendment ("No person shall be deprived of life without due process of law"); and that, because Awlaki was never legally proven to be more than "an inspiration" to Al Qaeda operations, it was in violation of the First Amendment as well. Greenwald worries, like Paul seems to, that this is an "obliteration" of "the most basic individual liberties designed to safeguard citizens from consummate abuses of power." For Paul and Greenwald, the concern is not so much one of politic or security as it is of basic rights and legal consequence, and the questions they raise are likely to give pause in the coming days.
Have a tip we should know? [email protected]