Exclusive: Presenting The 'Newspaper' Nominees For Adweek's 'Hot List' Awards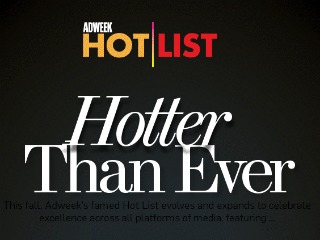 Adweek is gearing up for its newly expanded and revamped Hot List awards this December, when it will honor only the very hottest in magazines and newspapers, as well as (as of this year) the hottest names and titles in TV and digital media. Hot List events kick off this month with an exclusive preview party for industry VIPs, with many more events, magazine issues and features to come, including the launch of the Hot List Hub online — all leading up to the invite-only Hot List gala at New York City's Cipriani Wall Street.
And, as a special treat for all of you, we're delighted to share that we have an exclusive peak at this year's nominees in the "Hottest Newspaper" category. Now, if you're one of those naysayers who say "newspapers can't be hot! TL;DR Lol," well. Ask yourselves this: Have you not spent many a lazy Sunday morning lovingly studying the The New York Times crossword over coffee and Xanax? Have you never sneaked a furtive peak at The Village Voice? Have you not noted, delightedly, the gentle blush of the Financial Times? Exactly.
So, without further ado, here is this year's list of newspaper categories and nominees:
Editor's Selection: Hottest Newspaper
Hottest National Newspaper:
Which national newspaper in your opinion helps set the news agenda and has an equally impactful print and digital platform?
New York Times, USA Today, Wall Street Journal
Hottest Regional Newspaper:
Which enterprising regional newspaper do you feel is the leading source of news online and in print for the market it serves?
Boston Globe, Chicago Tribune, Houston Chronicle, Los Angeles Times, Newsday, St. Petersburg Times, Washington Post
Have a tip we should know? tips@mediaite.com