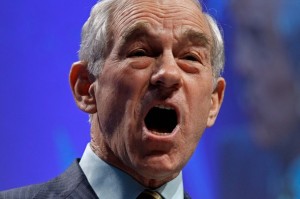 National Journal reporter Beth Reinhard got a chilly reception from Republican frontrunner Ron Paul when she ran into him eating his breakfast all alone at the Des Moines Embassy Suites. Reinhard asked the unaccompanied candidate whether his supporters would support the eventual nominee if it wasn't him, which drew a sharp retort.
"Right now, the only thing that bothers me is people who don't respect my privacy enough to leave me alone for five minutes when I'm eating breakfast," Paul allegedly responded. Reinhard reports the Republican hopeful coldly went back to reading his USA Today.
RELATED: Dick Morris Calls Ron Paul 'The Most Liberal, Radical Left-Wing Person' To Run For President In The Last 50 Years
Reinhard was not amused by Paul's curmudgeonly reply:
Charming. (By the way, if this were to happen to Romney, which it wouldn't, a SWAT team would immediately surround the reporter to oversee damage control.)

Paul, wearing a white shirt and jeans, insists he doesn't have time for even one question because he needs to shave before a morning television appearance. A few minutes later, he tries to get the waitress's attention and fails. Oh bother, he shrugs. And that's exactly why the people who love the Texas congressman/tea party icon/libertarian standard-bearer love him so intensely. He's just a cranky old man who wants to eat his eggs in peace before he sets out to save the world.
Paul's quirky morning routine drew scrutiny on Twitter, such as this snarky response from Washington Post blogger Aaron Blake:


Have a tip we should know? tips@mediaite.com