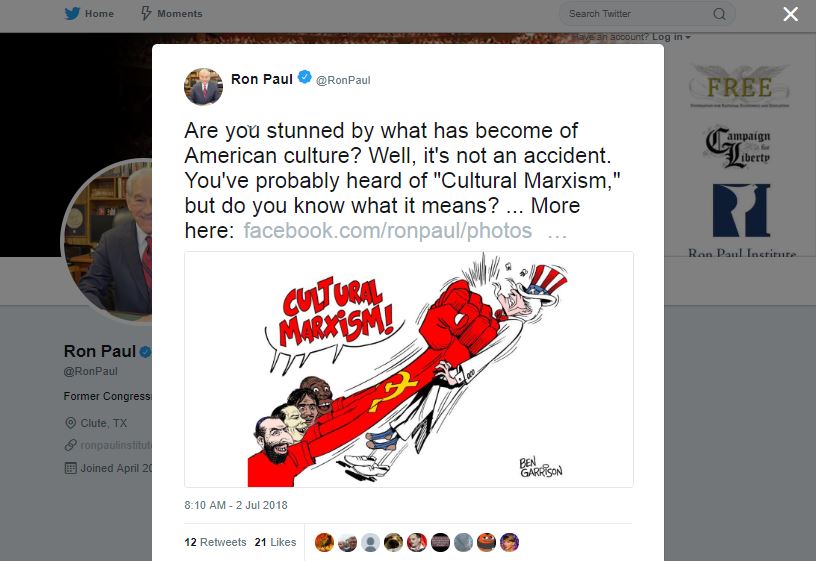 Libertarian icon, twice failed presidential candidate, and frequent Infowars guest Ron Paul shared a racist, anti-Semitic meme on Twitter today supposedly explaining "Cultural Marxism."
"Are you stunned by what has become of American culture?" Tweeted the father of GOP Senator Rand Paul in a since-deleted tweet. "Well, it's not an accident. You've probably heard of 'Cultural Marxism,' but do you know what it means?"
So, Ron Paul tweeted this (since deleted) pic.twitter.com/eGpf5tbDGX

— Ken Klippenstein (@kenklippenstein) July 2, 2018
The cartoon includes four ethnic caricatures––all of which are snarling in an evil manner and flaunting exaggerated facial features––punching America's Uncle Sam symbol with a connected red first bearing Soviet Russia's hammer and sickle emblem.
Paul's tweet has since been replaced by this:
Are you stunned by what has become of American culture? Well, it's not an accident. You've probably heard of "Cultural Marxism," but do you know what it means? … More here: https://t.co/bqyiekaSkX pic.twitter.com/9bm5EA17tk

— Ron Paul (@RonPaul) July 2, 2018
However, the term has an even more nefarious meaning among many on the right who identify with the alt-right or other white supremacist movements, since "Cultural Marxism" has instead become a racist dog whistle claiming the influx of non-white immigrants into America and Europe is causing cultural decline — which is clearly the definition Paul identifies with, given the clearly bigoted meme he shared.
UPDATE: While the meme has a signature added from the far-right cartoonist Ben Garrison added to it, the actual meme appears to be a homemade, amateur remake of an anti-imperialist cartoon.
I found the original of that racist Ron Paul image. It was an anti-imperialism pro-communism cartoon. https://t.co/nBAG9AnTRa pic.twitter.com/bS6u4rGA1c

— John Whitehouse (@existentialfish) July 2, 2018
[image via screengrab]
Follow the author on Twitter (@calebecarma).
Have a tip we should know? tips@mediaite.com