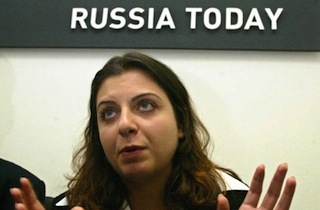 RT, Russia's English-language state-operated news outlet, had a rough week last week, after one its anchors went rogue and condemned Russia's invasion of the Crimean Peninsula, and another quit on-air over the channel's role in "whitewashing" Russian President Vladimir Putin's actions.

Following an op-ed criticizing western media outlets for "lambasting and lynching RT journalists," RT's editor-in-chief Margarita Simonyan has apparently had enough. In response to several questions from BuzzFeed reporter Rosie Gray about RT's coordination with Putin's administration, including in staffing high-level positions, Simonyan published giddily mocking replies Wednesday morning, snarkily playing up the station's image as the Kremlin's mouthpiece.
"I don't have to go to meetings at the Kremlin because I already live there," Simonyan wrote. "My office is located there as well, as are the offices of all other TV executives in Russia. And RT doesn't do any of its own investigating or reporting – presenters just read the latest Kremlin press releases on camera. It is much more efficient that way."
RELATED: Will Russian Invasion of Ukraine Expose Snowden as It Has RT?
It went on like that. When Gray mentioned the perspective of a former RT employee, Simonyan interrupted: "It is highly unlikely you could reach actual former-RT employees as it is company policy to unleash the KGB on anyone who dares to leave."
(It should be noted that Putin shuttered RIA Novosti, another state news agency ahead of the Sochi Olympics, in a move even the agency's executives said would "appear to point toward a tightening of state control in the already heavily regulated media sector.")
Gray took the piece in stride:
thank you for promoting my upcoming story on you, RT! http://t.co/sWJCTB0kO5

— Rosie Gray (@RosieGray) March 12, 2014
Daily Beast's Eli Lake mocked right back:
I know. It's totally crazy to ask a Kremlin funded propaganda station whether they coordinate coverage w/ the Kremlin http://t.co/tJm18y3cVr

— Eli Lake (@EliLake) March 12, 2014
[h/t RT]
[Image via AP]
——
>> Follow Evan McMurry (@evanmcmurry) on Twitter
Have a tip we should know? tips@mediaite.com