Rudy Giuliani Asserts That James Comey Must Know 'Very Serious Things' For Him to Act Now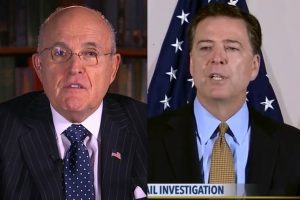 Former New York City Mayor Rudy Giuliani may be hot on the campaign trail just one week before election day (he's making the grounds in the crucial state of Florida today), but he took time to address the newly-emerging situation out of the FBI Monday.
Just three days after FBI Director James Comey sent a letter to lawmakers indicating that the investigation into Hillary Clinton's use of a private email server would essentially be reopened, Mr. Mayor aggressively speculated that Comey must be privy to serious information.
Giuliani made his remarks during a radio hit on The Joe Piscopo Show on AM 970 THE ANSWER Monday. Speaking to the show's interim host Frank Morano, the Mayor said that electing Hillary Clinton would simply, "cripple our country" at this time, furthering that based on his relationship with the FBI Director, there must be more going on.
"I would say that — knowing Jim Comey, he worked for me for three years when I was United States attorney — he would not have done this unless there were very serious things that he knows," Giuliani told Morano Monday.
In July, Comey announced that he would not be recommending charges to the Justice Department in the case, a decision that Giuliani slammed. He told Fox & Friends at the time, "I was very disappointed in [Comey]," continuing, "He contradicts himself at least three times."
But on Monday, Giuliani's approach to Comey's work sang a different tune. "They have already looked at the metadata," he continued to Morano, indicating that substantial evidence would have been present for Comey to make his decision late last week with days to go until the election.
Although Yahoo News reported this weekend that the FBI originally lacked the warrants necessary for viewing any new emails, Giuliani off-handedly continued, "I'm sure some of them are coming from Hillary Clinton's server."
Giuliani also spoke about the strengthened candidacy of his pal Donald Trump in the wake of FBI news by crediting positive poll numbers in Florida before remembering the oft-cited stance of his Republican candidate of choice: "I don't trust polls — I don't believe in 'em."
Listen above via AM 970 THE ANSWER.
Have a tip we should know? tips@mediaite.com