Rush Limbaugh Destroys Newt Gingrich For Promoting 'Left-Wing Social Engineering'
Limbaugh Destroys Newt Gingrich For Promoting 'Left-Wing Social Engineering'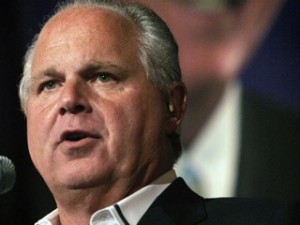 Last week, Rush Limbaugh was one of the many predicting Newt Gingrich's shots at Mitt Romney, the man he Gingrich believes ruined his front runner position, would only increase in intensity following Iowa. At the time, Gingrich seemed fine with the idea, pointing out that it would only end up helping Rick Santorum. However, the radio host clearly has not enjoyed the tenor of Gingrich's attacks since then as he spent a large amount of today's show absolutely lambasting the candidate and comparing him to such GOP-unfriendly entities as Occupy Wall Street, The New York Times, and Barack Obama.
Limbaugh went so far that some commentators are describing this as the "nuclear bomb" been dropped on Gingrich.
Recently, Gingrich has been criticizing Romney's Bain Capital past, making comments that some have seen as a knock on the free market. Rush Limbaugh certainly agreed.
"I don't know why the Occupy Wall Street people are protesting Newt. They're singing from the same hymnal on this. This is right out of the New York Times. Newt is parroting what the New York Times is writing about Romney.

…

Folks, it is clear here what is going on. This is not a campaign for the presidency. That's not what this is anymore. This is payback time. It drove him nuts, that series of ads that Romney's Super PAC ran in Iowa, and this is the result of it. That's why we are where we are. I'm not trying to make excuses. I'm just explaining. I'm not defending anybody. I just think this is very unfortunate. This is not the kind of stuff that you want said by Republicans. Even the Establishment Republicans don't go after Conservatives this way."
Ouch.
Limbaugh isn't the only one who's seeing a leftist streak in Gingrich's attacks. This is very similar to a piece Jon Stewart did last night. While Stewart was pointing out this seeming hypocrisy amongst the entire GOP field in their attacks on Romney, he did focus on Gingrich. More importantly, how often are we able to say Rush Limbaugh and Jon Stewart agree on something?
Listen to the clip (only one of a few similar anti-Gingrich rants today) below:
(h/t Daily Rushbo)
Have a tip we should know? tips@mediaite.com