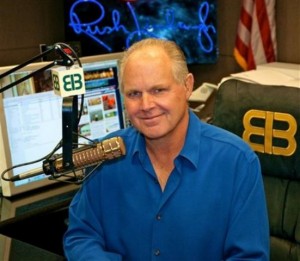 Rush Limbaugh responded to criticism that he was insensitive to Japanese victims by clarifying that he actually "bucked the conventional wisdom" by not making fun of the Japanese people and instead only mocked ABC's Diane Sawyer. Distinguishing himself from the likes of Gilbert Gottfried, Rush said all he's guilty of is "cramming it down the throats of the liberals."
Rush suggested Sawyer was actually deserving of laughter because he found it funny that Sawyer, in a report on "staying strong in the face of tragedy," praised the fact that Japanese people were "recycling," as Rush described, "in the midst of nuclear rubble." Such "irreverent humor," Rush argued is not "making fun of the Japanese people," but instead sticking it to Sawyer and liberal environmentalists. And in case anyone was concerned, Rush actually said he loves Sawyer and actually has secrets about her that he couldn't reveal.
The whole response was prompted by an ABC news article that originally named Rush in the title, and still has his name in the link, yet strangely has no mention of him in the actual text of the story. In the end though, Rush revealed some interesting insight into his own personal philosophy on life: "I don't worry about things that I have no control over." And since he can't control how people will interpret his comments, this seems to explain why he rarely worries about what his critics have to say about him.
Listen to the clip from The Rush Limbaugh Show below:

Have a tip we should know? tips@mediaite.com