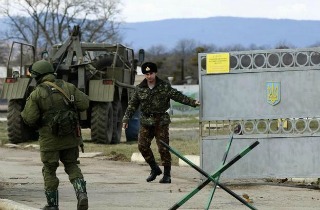 A five-minute recording between Russian officials recently leaked on YouTube indicates that the Russian invasion of Crimea may not be the end of Russia's global territorial ambitions. In the unauthenticated phone call, the two officials joke about the invasion of Crimea and suggest other areas in the United States and Western Europe that are worthy of invading.
The call, which claims to have been between Igor Chubarov, Russia's ambassador to Eritrea, and Sergei Bakharev, the ambassador to Zimbabwe and Malawi, features the two officials making light of Russia's military incursion into Ukraine.
"We've got Crimea, but that's not f***ing all folks," a voice attributed to Chubarov said. "In the future we'll damn well take your Catalonia and Venice, and also 'Cattleland' (Scotland), and Alaska."
RELATED: McDonald's Pulls Out of Crimea Due to Russian Annexation
After saying that Russia will move to annex "border countries" like the Baltic States and former Warsaw Pact members Romania and Bulgaria, he said that there are other portions of the American mainland that should be occupied by Russian soldiers. "We'll kick their asses in the right direction — where they have to be," Chubarov declared.
"It'll [be] better for us to disturb 'Californialand,' or 'Miamiland,' that sort of 'desolated' regions," Bukharev said.
"Miamiland is f***ing 95% Russian citizens," Chubarov agreed.
"We have a full right to hold a referendum," Bakharev concluded.
Listen to the call below via Michael Berkan (warning: explicit language):
h/t The Guardian
[Photo via David Mdzinarishvili/Reuters]
 — — 
> >Follow Noah Rothman (@NoahCRothman) on Twitter
Have a tip we should know? tips@mediaite.com