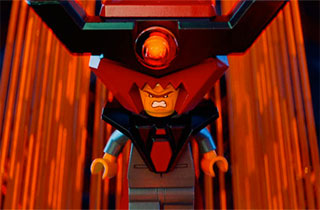 At a recent Sunday service in a small Polish town, a Roman Catholic priest set off major controversy when he denounced LEGOs — friggin' plastic bricks — as "tools of Satan that lead children to the 'dark side.'"
Father Slawomir Kostrzewa slammed the Danish toy company's tiny brick monsters, such as LEGO Dracula and LEGO werewolves, as "dark monsters" that "have a negative effect on children.
"They can destroy their souls and lead them to the dark side," Kostrzewa continued, adding that other spooky toys like Mattel's Monster High also had the potential to lead children into the stanky bosom of the great Satan.
His proof that LEGOs are being possessed by evil spirits? Their faces. From the Guardian:
The priest also cited research by New Zealand's University of Canterbury that found the facial expressions of Lego figures have also become angrier over the years, and that this compounded their evil potential.

"Facial expressions may be lead to confusion between good and evil," said Father Kostrzewa. "It appears the good suffer in battle and the 'villains' have a face showing satisfaction with their evil deeds."
This is also the guy who said that Hello Kitty was evil because — and this is real — Sanrio was a "porn business" which uses cartoon cats to sexualize little girls. (Well, this is the company that created the Hello Kitty vibrator, but…)
A LEGO spokesman denied being involved in Satan shenanigans to the AP, saying that LEGOs were only meant for children. ""The beauty of our product is that you can play out whatever you like," he said. Maybe scenarios like Satanic rituals full of fornicating LEGO characters?! Just saying.
Fun fact: If you play "Everything Is Awesome" from the LEGO Movie backwards, you can hear Satan reading the instructions on how to build a Star Wars X-Wing Fighter set.
[h/t The Guardian]
[Image of Lord Business, who is not Satan but looks like him, via LEGO]
— —
>> Follow Tina Nguyen (@Tina_Nguyen) on Twitter
Have a tip we should know? tips@mediaite.com