S.E. Cupp: Of Course Benghazi Committee Is Political, But Hillary's Playing Politics Too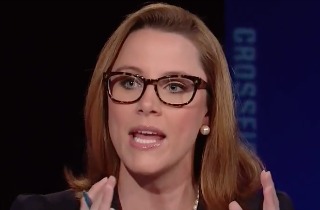 Nothing in Washington happens in a vacuum, and so as S.E. Cupp argues today, of course the Benghazi Special Committee is political, but that doesn't mean they aren't trying to investigate something important.
In her latest New York Daily News column, Cupp has no problem saying the hearings have "an element of the political" to them because 1) a Clinton is involved, and 2) it's happening in an election season.
So basically, "as much as former prosecutor and House Benghazi chairman Trey Gowdy wants his hearings to avoid politics, anyone who tells you that's actually possible is either lying or preternaturally naive."
Hillary Clinton's campaign and the Democrats have pounced on recent statements suggesting that the Benghazi hearings are partly about politics, declaring the committee to be tainted by politics.
But does Clinton have a leg to stand on here? Per Cupp:
Hillary herself is playing the politics. When House Majority Leader Rep. Kevin McCarthy suggested that Clinton's poll numbers have suffered because of the investigations — not, incidentally, an admission that this was the sole reason for the investigations — Clinton was quick to turn this into political capital for her presidential campaign, using his comments in her first national television ad entitled "Admit." (See also stories like Bloomberg's "Hillary Clinton Looks to Turn Benghazi Hearing into Next Boost.") Is Hillary allowed to use the hearing for political gain, while scolding Republicans for doing just that? Apparently, yes.
And yes, she concludes, Clinton's credibility is an issue worth looking into, even if the atmosphere surrounding it is partly political in nature.
[image via screengrab]
— —
Follow Josh Feldman on Twitter: @feldmaniac
Have a tip we should know? [email protected]
Josh Feldman - Senior Editor