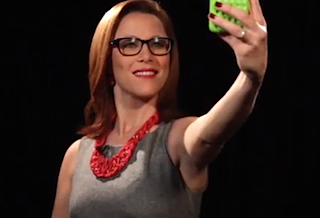 Crossfire may have wiped off the face of CNN's schedule for the last five weeks due to the seemingly-endless search for the missing Malaysia Airlines jet, but if you need a fix, look no further. On Monday, CNN's YouTube channel released a new video in the Crossfire Reloaded series featuring frequent conservative co-host S.E. Cupp. The theme may be selfies, but as you will see, there is a broader message to be gleaned.
After an elaborate set-up in which Cupp is forced to snap a selfie to get the photo of herself she really wanted, the pundit begins summing up the cultural importance of the selfie phenomenon in 2014, from Ellen DeGeneres to President Barack Obama. Rather than just chalking up the selfie craze to Americans' self-obsession, Cupp finds a way to make it all about — what else? — conservative politics.
"Now while older generations might lament the explosion of selfie culture," Cupp says, "I'm actually not surprised and kind of optimistic about where this is all going." From there, she explains that millennials grew up in a time in which they could not trust the government to do anything constructive for them, citing both the Iraq and Afghanistan Wars and the Affordable Care Act as prime examples.
At the same time, she continues, millennials have seen peers like Mark Zuckerberg and Sergey Brin become an instant billionaire by creating Facebook and Google respectively, or as Cupp puts it, finding ways to "solve problems on their own."
"Why would a millennial say, 'Would you take my picture for me?'" she asks, "when they know they can take their own picture better than anyone in the history of time?"
Got all that? Young people like taking photos of themselves, therefore they don't need any help from the government. Sure, the vast majority of millennials aren't Mark Zuckerberg, but they could be! And while we're at it, let's follow Cupp's advice and get rid of all photographers, because they are clearly no longer needed.
Watch video below, via CNN:
[photo via screengrab]
— —
>> Follow Matt Wilstein (@TheMattWilstein) on Twitter
Have a tip we should know? tips@mediaite.com