Saddest Political Story Of The Year! Husband Runs Against His Own Wife For New York Assembly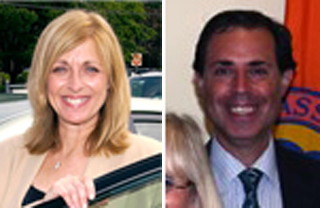 Has this ever happened to you? Someone tells you a story and you immediately respond, "Oh, man, that sounds like the worst romantic comedy ever. Who's in it?" and then they say, "No, this isn't a movie. This is something that's really happening in New York politics." and then you don't say anything and then everyone gets quiet and sad? Well, that's what just happened to us after hearing about the New York man who's decided to campaign against his own wife of 32 years that he's now separated from.
Michelle Schimel is a Democrat who's been her district's assemblywoman for three terms now. However, in the race for her fourth term, she will now be running against Mark Schimel, yes relation. Schimel is her estranged husband who just recently sought and received the Republican nomination in the race.
From ABC News:
"Frank Moroney, chairman of the North Hempstead Republican Committee, told ABC News Mark Schimel assured them he wasn't running with an agenda to hurt his estranged wife.

'He had the plan and the interest, and we made sure that everybody knows him. We weren't looking for a circus. We weren't looking for a sideshow,' Moroney told ABC News. 'We want an issue oriented campaign. He made that commitment, and we moved forward. He kept reassuring us that it was all about business.'"
Yeah, that sounds believable.
We can all see how this would work in a movie. Rachel McAdams just doesn't have enough time for her husband, Ryan Gosling, because of her high-profile political campaign. So, to save their marriage, Gosling does the only thing he can; gets in the race himself! With his wacky best friend, Jason Segel, as his campaign adviser, Gosling gets to the big debate where he declares his love and then he and McAdams make out in the middle of a bunch of red, white, and blue confetti! And Jason Segel totally bangs McAdams' sassy press secretary played by Aubrey Plaza! Yay!
Somehow, I don't see the real life version going this way. I also don't think the movie version would give the couple two poor children who are caught in the middle. Because that, like everything else, more sad than funny.
But don't worry! At least the real story has a wacky old lady character! Just read how funny this is!
"Mark Schimel's mother, Irma, expressed disbelief at her son's decision to run against his wife to a New York paper.

'You're joking,' Irma Schimel told the Daily News when she learned about his bid. 'This is a really startling thing. It's a shock. Why would he do this?'

When contacted by ABC News, Irma Schimel said she was no longer discussing her son's campaign."
Oh, wait. No. Just sad again.
This is an opinion piece. The views expressed in this article are those of just the author.