Sarah Ferguson Caught On Tape Selling Access To Prince Andrew For Six Figures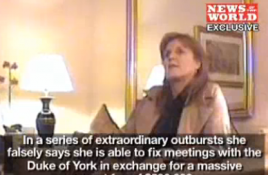 This post has nothing to do with Rand Paul, but wow, talk about a media "gotcha" moment. British tabloid News of the World has apparently caught Duchess of York Sarah Ferguson asking for approx. $750,000 from an undercover reporter in exchange for access to her ex-husband, the Queen's second son, Prince Andrew, who is now a UK Special Representative for Trade and Investment. The kicker: they have it on tape via a hidden camera. The video is below. Here's part of the story from News of the World:
"Look after me and he'll look after you. . . you'll get it back tenfold. I can open any door you want."

As the Duchess of York set out her stall, she blatantly put a price tag on an introduction to Britain's unsuspecting trade envoy Prince, opening the door to lucrative international deals.

Behind her ex's back, Fergie claimed to have discussed it with him and lied: "Andrew said to me, 'Tell him £500,000.'

"He knows that he's had to underwrite me up to now because I've got no money. So if you want to meet him in your business, look after me and he'll look after you. . . you'll get it back tenfold."

The greedy 50-year-old Duchess, who believed she was dealing with a rich businessman, was then filmed at a secret meeting pocketing an extra $40,000 down-payment in cash. Along the way she also INSISTED on one per cent commission on any deals we might strike due to her royal connections, and DEMANDED we wire the main £½million backhander into her private HSBC bank account.
Welcome back to the 1990's! This is perhaps the wrong reaction but it is sort of a strange relief to write about a "bombshell scandal" that that doesn't involve a U.S. politician. Meanwhile, Reuters is reporting the tape is apparently authentic and Ferguson is is "devastated" and "she regrets the embarrassment." So far Buckingham Palace has no comment. No doubt Ferguson is booking U.S. television appearances as we speak. NOTW video below.
Related [maybe directly!]: Poor, Little, Rich Girl: Sarah Ferguson Just Can't Stop Shopping [Styleite]
Have a tip we should know? tips@mediaite.com