Sarah Palin Documentary Director Describes Wasilla's Unusual Taste In Hospitality: Moose Meat?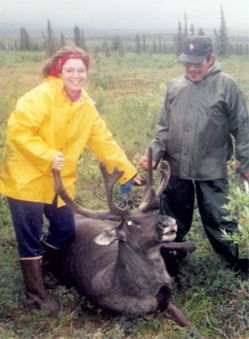 It sounds like Nick Broomfield, the director of the Kick Start-ed doc Sarah Palin: You Betcha!, was caught off guard by post-Sarah Palin Wasilla's unusual brand of hospitality. "The people there were very reluctant, but also very hospitable," he shared with Page Six, inquiring of his 11 weeks as a local. The British muckraker was there in search of an inside scoop on the town's notable export, but what he found instead was a lot of moose meat.
"Everyone has their own moose concoctions, so the first thing you do is try a lot of moose: moose sausage, pickled moose," he explained. This is something he perhaps should have expected: warm moose stew is Palin's oft-cited favorite food, after all.
Less expectant were the difficulties he had fitting in. Broomfield told Page Six that he had a hard time finding a place to stay because there are only two real estate agents in town and both of them assumed he was doing a "hit piece" — an "unbelievably rude" assumption, Broomfield says. Palin, it seems, has become a less than formidable character around town. "She's only got [husband] Todd," he found. "She's alienated her supporters in Wasilla and ruled out a lot of options."
But it's not like he would have had an easy time otherwise. "It's hard to rent a house becasue the only people who rent in the middle of the winder are making meth," he explains. "It's the meth capital of Alaska."
You Betcha! arrives in theaters today as a limited release, and so far, as mostly just a fizzle.
Have a tip we should know? tips@mediaite.com