'We Are The 99 Percent' Blog Lends A Human Face To Occupy Wall Street Protest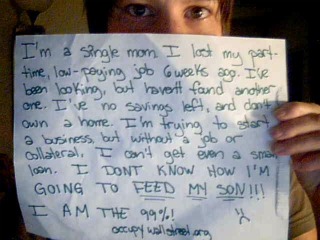 One of the major criticisms lobbed against the Occupy Wall Street protest (and also, arguably, a factor in its successful recruitment of a variety of protesters and supporters) is that it lacks a concise, easily digestible goal and mission statement. This is why a newly-launched Tumblr blog called "We Are the 99 Percent" might be helpful to some by attaching human faces and personal experiences to the movement and highlighting some of the issues those involved would like addressed.
The blog features a collection of handwritten notes chronicling different Americans' current experiences with things like debt, unemployment, lack of health insurance and few available jobs. It describes itself thusly:
We are the 99 percent. We are getting kicked out of our homes. We are forced to choose between groceries and rent. We are denied quality medical care. We are suffering from environmental pollution. We are working long hours for little pay and no rights, if we're working at all. We are getting nothing while the other 1 percent is getting everything. We are the 99 percent.
RELATED: Michael Moore On Occupy Wall Street: We're The Majority, 'Never Forget That'
"I'm a single mom," writes one person involved. "I lost my part-time, low paying job 6 weeks ago. I've been looking, but haven't found another one. I have no savings left, and I don't own my home. I'm trying to start a small business, but without a job or collateral, I can't even get the tiniest loan. I DON'T KNOW HOW I'M GOING TO FEED MY SON! I am the 99%!"
"My salary was cut in 1/2 a year ago," writes another. "My husband is under-employed and has been laid off twice in the last two years. My stepson just went to jail for 10 years. We he couldn't find a job, he sold drugs to feed his kids and keep a roof over their heads. My 19 yr old still lives at home. We can't afford college, and make what someones deems to be 'too much' for any assistance. He busts his ass working construction in the Florida son and considers himself lucky. My father in law lives with us too, who can afford Senior Care? He sits in a chair all day, alone, while we work. Life is a stressful struggle daily. We want opportunity, not handouts. We need jobs. We are the other 99%"
Check it out and let us know what you think. Does it change your view of the protest? Does it work towards a solution to the problems and issues listed?
Have a tip we should know? tips@mediaite.com