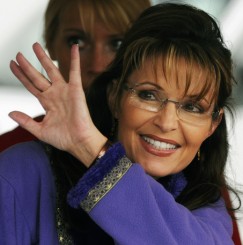 Be careful what you wish for. An straw poll conducted at Netroots Nation over the weekend revealed that a majority of liberals would like to see Sarah Palin snag the GOP nomination for president in 2012. According to CBS Palin was far and away the Republican of choice for attendees:
48 percent of respondents said they'd like to see Palin as the Republican Party's 2012 nominee. Rep. Ron Paul came in a distant second, at 11 percent. Ten percent voted for Rick Santorum, 9 percent for Mitt Romney and 8 percent for Newt Gingrich. Seven percent chose Tim Pawlenty, while 5 percent said Mike Huckabee, and 1 percent said Rep. Mike Pence.
Interestingly, Jeb Bush who's been getting increased attention of late, does not seem to be on the liberal radar here. Additionally, there is no mention on CBS why Palin was the candidate of choice. Presumably the assumption is she would make for a weak candidate once she was forced to step out from behind her Facebook page and address actual issues in either a debate setting or a unstaged press conference. Or perhaps the only people participating in this "unofficial" poll were bloggers and other media types who see SEO gold in a Palin run. Either way, I think if absolutely nothing else, this last year should have probably taught the world not to take Sarah Palin as a joke. Let's just say, I wouldn't put it past her to be the first person to attempt to run a political campaign without conducting one single outside interview.
Have a tip we should know? tips@mediaite.com