Sarah Palin: Primary Marco Rubio, Kelly Ayotte For Support Of Immigration Reform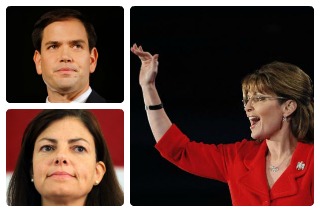 Speaking exclusively with Breitbart.com, former Alaska Gov. Sarah Palin told reporter Tony Lee that she thinks Republicans who have supported the comprehensive immigration reform bill which passed the U.S. Senate this week should face a primary challenge from the right. She explicitly named Sens. Kelly Ayotte (R-NH) and Marco Rubio (R-FL) as people she thinks should face a primary.

"Conservatives are getting ready for the 2014 and 2016 primaries. We have long memories, and there will be consequences for those who break campaign promises and vote for this amnesty bill," Palin told Breitbart.com. "Competition makes everyone work harder, be better, and be held accountable. This applies to politics, too. No one is 'entitled' to anything."
"Rigorous debate in competitive primaries allows candidates the opportunity to explain their flip-flops," Palin continued. "So think of contested primaries as a win-win for politicians and their voters."
RELATED: GOP Rep. Tears Apart Rubio On Immigration, Says Boehner 'Should Be Removed As Speaker' If He Backs
Palin told Fox News radio host John Gibson earlier on Wednesday that Republicans should be held accountable for "breaking their campaign promises."
"They turned their back on the American public, so why should they not be held accountable?" she asked.
"I think that they should be challenged. I don't have a problem with heated debates and contested primaries where they have to answer to constituents regarding their flip-flopping on such a fundamental position as amnesty for illegal immigrants," she told Gibson. "I don't have a problem at all with contested primaries. In fact, competition makes us all better and makes us be held accountable and I'd like to see them held accountable and answer as to why it is that they flip-flopped."
Read the full report via Breitbart.com
> >Follow Noah Rothman (@NoahCRothman) on Twitter
Have a tip we should know? tips@mediaite.com